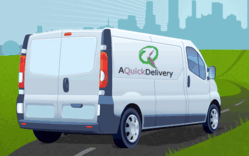 Atlanta, GA (PRWEB) May 03, 2013
AQuickDelivery, a leading same-day Atlanta courier and transportation service provider nationwide, announces food order pick-up courier services for one-time customers. The announcement comes as an effort to expand its' current customer base, market their services and increase sales growth. AQuickDelivery pursues to be the best choice for same-day courier and transportation solutions nationwide.
Food order pick-up courier services are offered by AQuickDelivery in the Atlanta and Metro Atlanta areas. Many companies and individuals have daily events or lunch sessions during the course of the business week. In many cases, they place food orders and do not have time to pick up. AQuickDelivery will assist in picking up and delivering these food orders. Whether large or small food orders, AQuickDelivery performs these courier services for not only account holders, but also one-time customers also. Food orders can be performed for locations within a short distance proximity.
The food order pick-up courier services must be placed on the courier's fastest delivery service option, which is called Direct. This is only due to the nature of food, which can only be carried on board for short length of time. This service consists of the pick up occurring within a 30-minute window, beginning from the time the customer states it is ready. Once on board, the courier goes directly to the destination to deliver the food order. At the time of the order, customers are requested to provide a destination contact who will accept the food delivery.
Customers can contact AQuickDelivery and request a food order pick up courier service via phone or online. Customers are recommended to call AQuickDelivery to speak with a customer service representative and assist them with any specific pick up and delivery needs. AQuickDelivery can also develop scheduled pick up and delivery courier solutions. The courier also provides online tracking for customers, in conjunction with automatic e-mail pick up and delivery confirmations. AQuickDelivery offers customers this tracking capability for convenience and ease, which results in a complete, professional courier experience.
AQuickDelivery is a recognized leader in same-day delivery , messenger, and transportation services nationwide. From small packages to palletized freight, AQuickDelivery provides superior delivery services on-time and fast. From Atlanta, Georgia, AQuickDelivery has a growing list of over 1,500 clients, including many Fortune 500 companies, throughout the US.