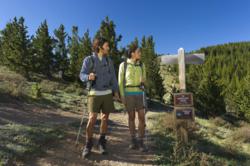 Taos Ski Valley, NM (PRWEB) May 07, 2013
Taos Ski Valley, the highest altitude town in the U.S. announces new summer activities from rock climbing, hiking, mountain biking, llama treks, horseback riding, guided fly fishing, chairlift rides and full moon hikes...
New offerings this summer include: Mountain Biking - Taos Ski Valley has an all-new gravity fed flow trail accessed by Chairlift #1, with over 3.6 miles of mountain bike specific trails that include jumps, berms, wall rides, and more. Bike rentals available in the village resort. The road to Taos Ski Valley has always been popular with cyclists…meet up at the El Camino Cantina in the town of Taos at 4pm and ride to Taos Ski Valley every Sunday of the summer.
September 5-7 "Michael Hearne's BIG Barn Dance" (http://www.michaelhearne.com), a world class music festival feturing some of the most diverse and well-respected names in Traditional Country, Americana and Folk music…along with some good old fashioned "boot scootin" in the big tent.
On the center stage: 17 weeks of music and performance: Opera two Sundays in June, free live music every Saturday, and Shakespeare, classical music and "Movies in the Mountains" all summer long.
On July 4th weekend, the Village resort will celebrate with a parade, live bands and the MotoTrials - a popular event in the valley since the 80's. For a serious high-altitude challenge...runners will love the Taos Ski Valley's 8th annual "10K Up and Over Trail Run" – the ultimate trail runner's challenge (http://www.taosskivalley.com/trailrun/index.html).
For many year, Taos Ski Valley has been known for its summer schools, camps and programs including the German summer school, Jillana Ballet school, FitTaos summer camps for youth, Taos School of Music (now in its 50+ year), Taos Opera Institute, and photography and art camps. For more information on these offerings go to http://www.taosskivalley.com/pages/play/Schools-Camps-and-Programs/
Taos Ski Valley and its surrounding environs provide a unique and intimate experience like no other...steeped in history and culture, and sought out for centuries by adventurous, one-of-a-kind individuals.
For great summer lodging packages, at discounted prices with convenient access to everything the mountain has to offer, go to http://www.taosskivalley.com/pages/stay/Taos-Ski-Valley/).
###