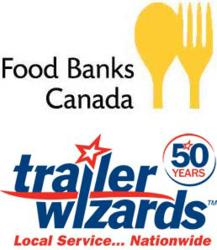 When we asked employees what they wanted to do to celebrate our 50 year, this was their idea.
Mississauga, ON (PRWEB) May 06, 2013
Trailer Wizards Ltd. has donated $25,000 to Food Banks Canada and is also a sponsor of Hunger Awareness Week. The week-long campaign, 'Give It Up For Hunger', will run from May 6 to May 10. During this time, Trailer Wizards' employees will be spreading awareness of the issue of hunger across the country and the need for donations to food banks as well as supporting national programs. They will also be collecting non-perishable food items and money on behalf of Food Banks Canada.
"When we asked employees what they wanted to do to celebrate our 50 year, this was their idea," Doug Vanderspek, President of Trailer Wizards, explained. "Employees wanted to give back locally to their communities and help others in need. Each branch will be working hard to raise awareness for Hunger Awareness Week and will graciously accept food bank donations from customers, partners and vendors on behalf of their local food bank."
Trailer Wizards' branches will also be organizing food drives to support local food banks during their 50 anniversary customer appreciation events this spring with the hopes of raising an additional $25,000 of food and money for a total of $50,000. Invited guests will be encouraged to bring canned or non-perishable food items. Any money or food that is raised locally will stay with a local food bank charity.
Local food banks work all year round to address hunger. Canadians can help make a positive impact during Hunger Awareness Week in the following ways:
Give It Up: Experience what it's like for food to be out of reach by challenging yourself to fast on May 8.
Give a Shout: Share your experience –show your support via blogging, Twitter: @foodbankscanada, #hungerawarenessweek, #hungerweek or Facebook: Food Banks Canada
Give It Out: Donate food, funds or your time to a local food bank.
About Hunger Awareness Week
Hunger Awareness Week was created to provide food banks with an opportunity to educate Canadians about the hunger need in our country, and encourage all Canadians to help those in need. Close to 900,000 individuals turn to food banks for support each month, and nearly two million Canadians are food insecure, struggling with not knowing where their next meal may come from. Today, more than 900 food banks and 2,900 affiliated agencies distribute groceries or provide meals to Canadians in need. Since 2006, Food Banks Canada has dedicated one day each year to raising awareness around the issue of hunger in Canada. This year marks the second year where afull week has been dedicated to hunger education. For more information on Hunger Awareness Week visit http://www.hungerawarenessweek.ca.
About Food Banks Canada
Food Banks Canada is the national charitable organization representing the food bank community across Canada. Their Members, Affiliate Member food banks, and their respective agencies serve approximately 85% of people accessing emergency food programs nationwide. Their mission is to meet the short-term need for food and find long-term solutions to reduce hunger. Please visit http://www.foodbankscanada.ca for more information.
About Trailer Wizards
For 50 years, Trailer Wizards Ltd. has been delivering professional commercial trailer solutions with fast, customer-friendly service while continuously driving out costs. As Canada's largest and only national commercial trailer rental, leasing and sales company, Trailer Wizards Ltd. provides "Local Service… Nationwide" to Vancouver, Calgary, Edmonton, Saskatoon, Regina, Winnipeg, Mississauga, Montréal and Moncton. To learn more about Trailer Wizards Ltd., please visit http://www.trailerwizards.com.