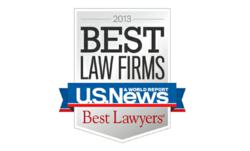 Coming out on top in such a major survey like this is a big honor.
CHERRY HILL, NJ (PRWEB) May 03, 2013
Levow and Associates law firm has been named among the top firms in its class in a joint project by Best Lawyers and US News & World Report. The firm works exclusively on defending those accused of driving while intoxicated.
Best Lawyers is an independent organization that ranks lawyers and law firms annually according to different categories of law practice. It uses a rigorous qualification process based on peer review among fellow attorneys, with additional criteria including education, ethics, responsiveness, success record, significance of legal matters undertaken, and professional awards and recognition.
Levow and Associates has been involved in high profile DWI cases including State of New Jersey v. Chun, a case that changed the way breath testing evidence is considered in court cases. The firm's founding attorney, Evan Levow, said the ranking is an honor for his firm.
"Coming out on top in such a major survey like this is a big honor," Levow said. "But to us it's secondary. We really view the satisfaction of our clients, and our success on their behalf, as the highest reflection of our work."
The combined survey ranked nearly 9,000 firms in more than 170 metropolitan areas. Attorneys were divided up into 81 practice areas, and Levow & Associates was awarded Best Law Firms for DUI/DWI Defense.
About Evan Levow:
Evan Levow is a NJ DWI lawyer and the founder of Levow & Associates law firm. Serving clients in Pennsylvania and New Jersey, his practice is 100% dedicated to DUI defense. He has lectured throughout the country on breath testing, blood testing and field sobriety testing issues. He can be contacted at:
Evan M. Levow | Levow & Associates | 1415 New Jersey 70 | Suite #200 | Cherry Hill, NJ 08034‎ | (856) 428-5055 | (877) 735-2288 | http://www.nj-dmv-dwi.com