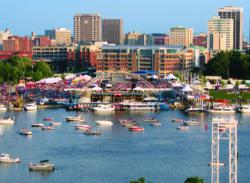 Chattanooga, TN (PRWEB) May 06, 2013
Once here, visitors can park the car and explore the laid-back city aboard the free electric shuttle that connects all the hotels, attractions, restaurants and activities throughout the Downtown, Riverfront, NorthShore and Southside Districts.
Chattanooga was named "Best Town Ever" by Outside magazine, and one of "The 45 Places to Go" in the world by the New York Times – and it's easy to see why. Chattanooga is less than a two-hour drive from Atlanta, Nashville, Knoxville, Huntsville and Birmingham and is located in the valley along the Tennessee River and surrounded by picturesque mountains.
CHATTANOOGA'S TOP 5 SUMMER ADVENTURES
There's so much to do in Chattanooga, visitors need to plan several days to experience the top Summer adventures.
1. FESTIVALS & LIVE MUSIC: Be entertained at numerous music festivals throughout the summer including the 9-day Riverbend Festival featuring Cee Lo, Brandy, Gavin DeGraw, Dierks Bentley, Jake Owen, Lynyrd Skynyrd, O.A.R., Newsboys & over 100 more artists; 5-month Nightfall Music Series; Riverfront Nights music series; Southern Brewer's Festival or year-round concerts at Rhythm & Brews and Track 29.
2. DOWNTOWN: Come face-to-face with sharks, penguins & thousands of other animals at the downtown Tennessee Aquarium; take an eco-cruise aboard the River Gorge Explorer or the Blue Moon; enjoy a relaxing lunch/dinner cruise aboard the Southern Belle Riverboat; browse locally made items at the Chattanooga Market; dig for dinosaurs at the Creative Discovery Museum; check out snow leopards, red pandas and more at the Chattanooga Zoo; catch a Chattanooga Lookouts baseball game or cool off in the interactive water fountain in Coolidge Park or visit the famous Chattanooga Choo Choo.
3. LOOKOUT MOUNTAIN & TN VALLEY FUN: Venture high atop Lookout Mountain, just six miles from downtown. Meander through the trails at Rock City Gardens; delve 260 feet below the ground at Ruby Falls; wind your way through the trees at the Zipstream Aerial Adventure course; head straight up (and down!) Lookout Mountain on the world's steepest passenger railway, the Incline Railway; visit the Chickamauga-Chattanooga National Military Park at Point Park or in Chickamauga; enjoy thrilling rides at Lake Winnepesaukah or take a ride aboard a train at the Tennessee Valley Railroad.
4. OUTDOOR ADVENTURES: Land, air and water – we've got it all. Try rock climbing downtown at Coolidge Park or numerous other places on the mountainous terrain; biking along the Tennessee River on the 13-mile Tennessee Riverwalk; kayaking or canoeing downtown; hiking, fishing, golfing, mountain biking and more. If you're up for a thrill, try hang gliding 2,000 feet in the air along Lookout Mountain or go whitewater rafting on the wild Ocoee River, only 45 minutes from downtown.
5. ARTS & CULTURAL ACTIVITIES: Take in one of the nation's largest collections of American art at the Hunter Museum of American Art; stroll through museums, galleries & outdoor sculpture gardens in the Bluff View Arts, North Shore, & Southside Districts; create a masterpiece at Ignis Glass Studio or enjoy more than 100 pieces of public art integrated throughout the downtown area.
And while on vacation, visitors need to make the taste buds happy, right? Downtown alone offers an array of establishments that have attracted food reviewers and celebs including Rachel Ray's $40 a Day show and Alton Brown. For fine-dining, there's Hennen's, Back Inn Café, and 212 Market or the James-Beard-nominated St. John's. For to-see-and-be-seen in places, check out one of the local favorites like Public House, Easy Bistro, Big River Grille, Taco Mamacitas, Blue Plate, Hair of the Dog Pub, Sugar's Ribs or The Terminal.
WHAT'S NEW
Chattanooga is dedicated to continually enhancing the city, always making it a better destination. This year brings some great new ways to have fun, topping off an already impressive array of things to do.

Lake Winnepesaukah's 5-Acre Water Park Called "Soakya" will feature a lazy river, wave lagoon, flume body slides, enclosed tube slides, side-by-side racer slides, splash park for toddlers, shaded lounge seating, retail shops, concessions and a changing facility with lockers. Opens May 2013.
Chattanooga launched a bicycle transit system with 300 bikes at 30 stations throughout the city.
Scenic City Roots is a monthly concert series that's recorded live from Track 29 and then broadcast in hi-def on PBS stations state-wide. Each show is two hours and features regional and local talent.
The Main Terrain Park, located in the Southside District, is a 1.72 acre urban fitness park complete with interactive public art, green space, walking & running track (inlaid with haiku poems), bike storage and fitness stations.
Chattanooga's public art program introduces a wide range of high quality public art into the community, enriching the lives of residents and visitors. Downtown is scattered with more than 100 pieces of public art and thanks to a new Public Art Plan, people can now learn more about many of these pieces with a new map that provides information on the artist, title of the piece, medium and its location.
Flying Squirrel Neighborhood Bar, adjacent to the Crash Pad, features a modern design and handcrafted interior. It's intended as a local gathering spot for dinner and a late-night crowd. Opens Summer 2013.
Chattanooga has opened several great new restaurants over the past few months throughout the downtown area: Community Pie serves Neapolitan pizza; Elemental offers Southern fare with a modern twist; terraMae's food celebrates the Appalachian mountains from Maine to Tennessee; Café 7 at Rock City Gardens offers a gorgeous, world-famous "See 7 States" view along with their delicious southern cuisine from the seven states; and Milk & Honey is filled with freshly made gelatos and sorbets.
The Block, located in the heart of downtown, will feature a 25,000 sq ft indoor climbing/bouldering wall, an exterior public art piece that will also be a climbing wall, a 38,000-square foot Rock/Creek outdoor retailer and a fitness facility that will include equipment rental, programs, competitions, training equipment, massage & a pro shop for gear purchase. Opens October 2013.
For more information on everything to do in Chattanooga, visit http://www.chattanoogafun.com.
FOR MORE INFORMATION ON CHATTANOOGA:
FACEBOOK
PINTEREST
TWITTER
EVENTS calendar
WHERE TO STAY
COUPONS