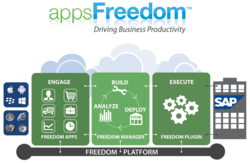 appsFreedom's mobile development platform and ready-to-use apps speed time-to-value and ROI.
Chandler, Ariz. (PRWEB) May 07, 2013
appsFreedom™, a leading provider of enterprise mobile cloud software for SAP, announced today the 3.0 release of its enterprise mobility software. The latest release adds a patent-pending, cloud-based Mobile Application Development Platform (MADP), and corporate app store capabilities to the company's ready-to-use, pre-integrated mobile apps for SAP.
The patent-pending "Freedom Platform" is an enterprise-grade, fully integrated cloud-based mobile development and management platform that helps companies accelerate time to value and extend the mobility value proposition throughout the organization. The platform simplifies a customer's ability to design, build, deploy, manage and analyze the adoption of mobile apps. The solution consists of three components:

Freedom Apps: ready-to-use, pre-integrated apps that are deployed in a matter of days for key business functions including sales, management, procurement, HR and field services;
Freedom Manager: on-demand, multi-tenant development and management application that simplifies app development, deployment, provisioning and management; supports unlimited scalability and adoption analysis; and
Freedom Plugin: for simplified integration and execution of business rules application to support a seamless rollout into any enterprise environment.
"In this 'post-PC era,' business leaders need to mobilize their organizations, but many feel constrained by long deployment cycles and uncertain ROI," commented Vaidy Iyer, founder and CEO of appsFreedom. "appsFreedom's mobile development platform and ready-to-use apps speed time-to-value and ROI. This enterprise mobile cloud approach – delivered in a SaaS model – means organizations can go mobile faster and extend the value deeper into the organization so they can start using mobility as a truly competitive weapon."
The Company's Freedom Apps are offered under a simple per-user, subscription based pricing model and use of the Freedom Platform is now included in the solution at no additional cost. The solution also has no limitations on the number of apps or transactions, and customers can incrementally add apps and users at any time using Freedom Manager.
For more information, visit the Company online at http://www.appsFreedom.com, or see a live demonstration at the upcoming SAPPHIRE NOW | ASUG Annual Conference May 14-16 in Orlando, Florida. appsFreedom will be in Booth #2818.
About appsFreedom™
appsFreedom™ is a leading provider of Enterprise Mobile Cloud Software for SAP that enables companies and their employees to achieve Workplace Freedom. appsFreedom drives business productivity with pre-built, pre-integrated, ready-to-use Freedom Apps and the Freedom Platform, which empowers enterprises to build, deploy, manage and run mobile apps in a simple user-based subscription model. With appsFreedom, business users access their enterprise applications rapidly and securely from any device, anytime, anywhere. Global companies across the industry spectrum rely on appsFreedom for the best-in-class mobile cloud solution and highest ROI in the marketplace. To learn more, visit, http://www.appsFreedom.com.