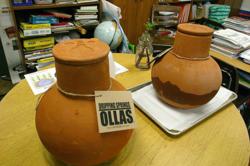 When we thrive physically, we thrive emotionally. We want kids to educate and thrive.
Gloucester, VA (PRWEB) May 06, 2013
Ware Academy's lower school students watched closely on Earth Day 2013 as Mary Kathryn Dunston poured a gallon of water into a large terra cotta pot.
Dunston, a Gloucester resident and representative from the Texas-based Dripping Springs OLLAS, recently donated two OLLAS to Ware Academy.
An OLLA is an unglazed, porous clay pot that's buried in the ground, leaving only the neck of the pot exposed. Gardeners then periodically fill the pot with water, which seeps out directly to the plants' roots.
The students were watching to see the water escape from the OLLAS so they could better understand how the pots worked before they buried them in their own garden on the 19-acre campus one mile away from Gloucester's Courthouse.
Dunston helped secure the OLLAS donation not only because of her mission to help teach kids how to garden, which hopefully inspires them to want to eat fresh, healthy foods, but also because her husband was a graduate of Ware Academy.
"When we thrive physically we thrive emotionally," said Dunston, who before joining Dripping Springs OLLAS as a representative, was a teacher in Gloucester. "We want kids to educate and thrive."
Dunston called the OLLA method an "ancient technique that's low tech, low cost and effective in all kinds of environments around the world."
OLLAS were designed for use in China and South America, Dunston said, where water is very precious.
"Just like plants grow toward the sun," Dunston told the students, "roots grow toward the water."
OLLAS can be used for vegetable, landscape, flower or container gardens. Typically, they have to be refilled with water a couple times a week, Dunston said.
Not having wet topsoil often results in fewer weeds.
The lower school students at Ware Academy plan to place their two OLLAS in the garden on campus. Learning about more efficient gardening practices now will help prepare them for their future academic work.
Eighth grade students at Ware Academy work yearlong on what's called their Capstone project. While each student takes a different approach to their culminating project at the school, all are based around the theme of the Chesapeake Bay and water conservation.
The OLLAS the lower school buried in the gardens this year will still be there by the time they reach eighth grade, Dunston said.
"An OLLA will last long enough for you to be an adult and use it in another garden," Dunston said.
The Dripping Springs OLLAS are for sale in the area at Brent and Becky's Bulbs off of Route 14 near Ware Academy, Ware Neck Produce along Gloucester's Main Street, 4 U'R Health in White Marsh, Tatterson Greenhouse in Mathews, Route 33 Garden Center in West Point and Farm and Home Supply in Kilmarnock.
To learn more about the OLLAS or gardening program at Ware Academy, contact Ginger James, Director of Admissions and Special Events at 804.693.3825 or visit http://www.wareacademy.org.
ABOUT WARE ACADEMY:
Located one mile from Main Street in Gloucester's historic Courthouse district, Ware Academy is a Pre-K through 8th Grade independent school. The 19-acre campus is widely recognized by its signature farmhouse called Noland Hall, which houses the administrative offices, kindergarten, pre-kindergarten, music and art classrooms.
The Lower and Middle Schools are located in Waddell, Thomas, and Pickett Halls, with athletics, physical education and drama classes held in Kilborn Hall.
In addition to classrooms, Ware offers a fully outfitted computer lab, a science laboratory and a 1,000-square-foot library. The athletic program includes soccer, volleyball, cross-country, basketball, lacrosse and golf.
Ware Academy is accredited by the Virginia Association of Independent Schools, the National Association of Independent Schools, and the Education Records Bureau and the Secondary School Admissions Test Board. Ware Academy is also a member of the National Middle School Association, the National Junior Honor Society and the Association of Supervision in Curriculum Development.