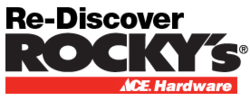 This award reflects a solid commitment to excellence.
Springfield, MA (PRWEB) May 07, 2013
Rocky's Ace Hardware, a family-owned business with 33 neighborhood-based hardware stores, is proud to announce that the chain has been selected to receive the "Retailer of the Year Award" from the North American Retail Hardware Association. The award recognizes a home improvement retail company for its operational success, as well as its commitment to best practices and industry values of quality and service.
Rocky's Ace Hardware has been in continuous operation under the same family ownership since 1926, when the first store opened in Springfield, Mass. "We are all very proud of this phenomenal achievement," said Rocco Falcone, President and CEO. "This award reflects a solid commitment to excellence from every individual in our organization. It is the culmination of their efforts that made this accomplishment possible," added Falcone.
"Home Channel News has for a long time admired Rocky's Ace Hardware," said Ken Clark, editor of Home Channel News. "It's a family business with a great history, an eye on the future and an ability to grow." This is the first time the chain has won this prestigious award.
The company launched their "Re-Discover Rocky's" campaign in 2012 to successfully call out their improved product assortment in areas of paint, tools, lawn care, outdoor power equipment, pet, cleaning supplies, grills and outdoor living, in addition to traditional hardware departments. In November 2012, the company expanded its store count and entered a new market with its opening of a 12,500 square foot store in Fairhaven, Mass., bringing the total number of stores to 33. "Our strengths include paint, outdoor power, pet and lawn and garden," said Falcone. "Our extensive selection, along with friendly and expert advice helps us stand out from the rest."
The Second Annual Pet Food Drive, held late in 2012, also served to reinforce its commitment to the local community. "The extraordinary efforts of our store members in rallying behind this worthy cause, along the outstanding generosity of our customers, resulted in an unprecedented overall donation to local, community based shelters and humane societies," said Geoffrey Webb, Director of Marketing and Advertising. The program resulted in more than 6,500 pounds of food being donated for needy animals.
The "Retailer of the Year Award" will be presented during the 2013 National Hardware Show in Las Vegas, on May 7-9. The show is recognized as the prime home improvement event of its kind, featuring more than 600 exhibitors and attracting over 27,000 industry professionals.
About Rocky's Ace Hardware:
Rocky's Ace Hardware, headquartered in Springfield, Mass., operates 33 stores in Massachusetts, Connecticut, New Hampshire, Rhode Island and Florida. The neighborhood paint, pet, garden center and hardware store chain has been under the same family ownership since the first store opened in 1926. For more information, please visit http://www.rockys.com.