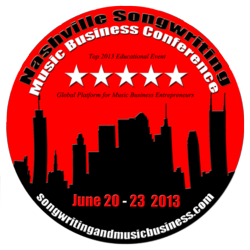 Independent songwriters and artists don't know where to turn for advice. We've got people shouting opinions and new strategies for us to try every day, but often, what we find is a bunch of people with their hands out trying to make money off our dreams
Nashville, TN (PRWEB) May 02, 2013
Songwriters and independent artists face many challenges in today's music market, but finding a supportive community of industry mentors just got a lot easier. June 20-23, 2013 marks the second annual Nashville Songwriting and Music Business Conference organized by Grammy nominated songwriter and visionary music business entrepreneur, Amanda Williams and her Songwriting and Music Business community.
Bringing together respected professionals from all walks of the music business and related fields, the goal of the Conference is to foster sustainable careers in the new model of the music industry.
Williams is no stranger to the plight of independent artists, having fronted a hard rock band in Boston while earning her Music Business degree from Berklee College of Music before entering the professional country music songwriting arena as a staff writer for Sony in 2003.
"Independent songwriters and artists don't know where to turn for advice. We've got people shouting opinions and new strategies for us to try every day, but often, what we find is a bunch of people with their hands out trying to make money off our dreams – from lawyers, to advisors, to so called experts. Making sense of that noise boils down to one thing: finding the principles that underlie our business and sticking with those as our guide."
Amanda's passion for helping aspiring songwriters spills over into the non-profit sector with her involvement in raising awareness for kids aging out of the foster care system and providing free workshops teaching songwriting as a healthy form of self expression to k-12 schools via the World Music Project which she self funds.
"The June Conference is a way for songwriters of all experience levels to come together with like minded industry pros and peers to share ideas about what's working in the music industry as we find our way in this new millennium," says Williams of the upcoming Nashville Songwriting and Music Business Conference.
For more information about the June 20-23, 2013 Conference and to see the lineup of industry pros who will be participating, visit Songwriting and Music Business dot com.