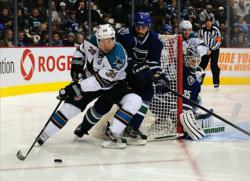 San Francisco, CA (PRWEB) May 03, 2013
Leading San Francisco ticket broker, Top Notch Seats, is thrilled to announce to hockey fans all over Northern California and beyond that they are now selling San Jose Sharks Playoff tickets to the first round games against the Vancouver Canucks.
Hockey fans should know that Top Notch Seats is the single largest supplier of San Jose Sharks tickets in the secondary market, and they have tickets in many different seat locations throughout the HP Pavilion, ranging from the very best club seats in the house to the least expensive ticket in the door.
"When you buy Sharks tickets from Top Notch, you are buying them direct without any added service fees," says Paul Hillig of Top Notch Seats.
Top Notch Seats actually stocks Sharks tickets and have them in their own inventory, which is why fans will always get the best price when buying from them.
The series got started Wednesday May 1, 2013 and the Sharks asserted their authority and immediately gained control with a convincing 3 – 1 victory. The triumph immediately neutralized the advantage that the Canucks came into the series with, and Vancouver is already facing a situation where they will need to win four of the next six games in order to advance.
Game 2 is scheduled for Friday night, May 3, in Vancouver, and both teams will fly south before landing in the Bay Area sometime Saturday, May 4. Game 3 will take place at the HP Pavilion on Sunday, May 5 at 7pm, and Game 4 is scheduled for Tuesday, May 7 at 7pm. Come out and support the only South Bay professional sports team right now, the San Jose Sharks.
San Jose and Vancouver are no strangers, having played each other three times during the course of an abbreviated season. The fact that the Sharks won all three of the games has clearly given them a confidence and a swagger on the ice. Watching this unfold is a rare and exclusive opportunity, which is why true Sharks fans are wise to visit Top Notch Seats to explore their selection of San Jose Sharks tickets.
Although both rosters are filled with talented veterans who know how to get the puck into the net, the deciding matchup in this series will more than likely be the play of the goalies. Cory Schneider is still dealing with an injury, and Luongo is expected to be between the pipes for the Canucks. Sharks goalie Antti Niemi played like a future Hall of Famer throughout 2013, tying for the most wins and instilling excitement and hope within a proud Sharks fan base. All the best Sharks Playoff tickets are available now at Top Notch Seats.
For more information about San Jose Sharks playoff tickets, visit http://www.topnotchseats.com.
About Top Notch Seats
Operating from the heart of Silicon Valley since 1993, Top Notch Seats is an online leader in secure ticket sales. TNS supplies audiences with quality seating and tickets to all major concerts, theatre and sports events in the Bay Area and around the nation.
Top Notch Seats specializes in providing Bay Area concert tickets with a wide variety of seating options, which enables customers to choose their favorite vantage point. TNS is a licensed Bay Area ticket broker engaged in the business of buying and selling first-rate tickets. They do not sell tickets at face value; ticket prices are often well above face value and reflect the cost of obtaining quality seating.