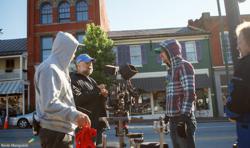 Lynchburg, VA (PRWEB) May 02, 2013
Downtown Lynchburg, Va., and Liberty University's campus were bustling as they provided various movie set locations for the Liberty University Cinematic Arts, Zaki Gordon Center's first full-length motion picture. Shooting wrapped up Friday after about a month of filming.
The project, called "Letting Go," is in collaboration with EchoLight Studios, a world class Christian film studio, who Liberty recently partnered with in a five-year, multimillion-dollar agreement. "Letting Go" is the first of five Liberty movies that will be financed, produced, and distributed worldwide by EchoLight.
"Our goal at the Liberty cinema program is to build Hollywood East right here in Lynchburg, Va.," said alumnus Scotty Curlee, assistant professor of cinematic arts. "We want to create industry here so that when our students graduate they can certainly go to Hollywood, New York, London, and Paris but if they want to stay here in Lynchburg and make movies they can."
Right now, the new film school plans to create one full-length feature film per year but the goal is to eventually make two movies per year, Curlee said.
"It is all about developing our talent and getting our students to the level where their skill sets are meeting and exceeding industry standards."
For Liberty's 31 current film students in the major, "Letting Go" gives them an opportunity to get a professional credit for their resumé and on the Internet Movie Database before graduation. They get the added benefits of working with and learning from industry professionals. In addition to some professional actors, the movie features veterans as its director and producer.
Students are assuming many of the roles behind the scenes, including operating camera and sound equipment. Many Liberty students portrayed extras in the film and two staff members, Jill Acosta, cinematic arts administrative assistant, and Chris Nelson, assistant professor in Liberty's Department of Theatre Arts, played supporting roles.
"Unique to Liberty's film school is that our students learn to make feature films by making (them) and gaining professional credits while in school," said Stephan Schultze, executive director of Cinematic Arts. "These projects engage students in roles they would need to work for years in the industry (before) finally getting their chance."
He said the professionals they hired to work alongside the students said they would hire these students right now and that "they are as good now as many professionals (they) have worked with."
Tracey Trost, the film's director, was impressed with the students' work.
"I've seen some of these kids shine and explode," Trost said. "(The professionals) have embraced the idea of it and have taught the kids. They are making the kids do the work. They say, 'Hey here's how we do it,' and, 'That's your job and I'm going to hold you accountable for it.'"
Trost has been involved in filmmaking for the past five years after 25 years in television.
The movie stars Andrew Cheney ("Seasons of Grey," "Inheritance," "Beyond the Mask"), Rachel Hendrix ("October Baby"), and "Fireproof"'s Erin Bethea. "Fireproof" was the highest-grossing independent film of 2008.
Bethea's husband graduated from Liberty University Online with a degree in finance. She said at first she didn't know what level of professionalism the students would display.
"What they have going here is unbelievable," she added. "They have equipment that some studios do not even have yet. They have the best of the best stuff here. They have set their students up for success here with the facilities and technology they have made available."
With access to first-class online editing facilities, state-of-the-art RED digital cameras, and the only THX-certified sound mixing stage on the East Coast, Liberty's film students are fully trained and outfitted to create top-quality films on campus.
"I was so amazed when I first came to Liberty for a tour," Hendrix said. "This stuff blows any other film school out of the water in terms of what they are capable of by having all of this equipment."
Hendrix portrays McKenna, the main character's love interest in the movie.
Cheney, who plays the movie's main character, Jason, said part of the reason he agreed to be a part of this project was the emphasis Liberty puts on excellence and the fact that EchoLight had the confidence to back it.
"To be honest this program is one of a kind," he said. "I have told a lot of students that I am envious of what they are getting exposed to at such a young point in their career. It is just invaluable. They are getting the kind of exposure a lot of people don't get until a year or two after undergrad."
"Letting Go" tells the story of Jason, who must relive the same day over and over again after a traumatic experience involving McKenna, who he just met but instantly fell in love with. Throughout the film, he must grapple with emotional scars and evaluate his belief system, ultimately leading him to decide whether or not he is able to let go.
Schultze said having a properly funded film and a dedicated group of faculty and students "makes a world of difference in the producing and quality of the final product."
Liberty's Cinematic Arts, Zaki Gordon Center officially launched last year.
Students accepted as Cinema Arts majors enter an immersion program their junior year, in which they are devoted solely to their filmmaking academia.
Every graduate of Liberty's Cinematic Arts program will leave the school with a completed screenplay, a business plan to market and fund it, a short film they have written and directed, and real-world career experience, including a feature film credit and work with industry veterans.
About Liberty University
Liberty University, founded in 1971, is the largest private, non-profit university in the nation, the largest university in Virginia, and the largest Christian university in the world. Nearly 100,000 students attend classes on its 6,800-acre residential campus and study in its thriving online education program.