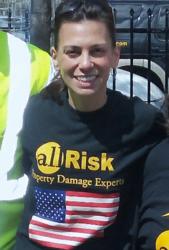 "It was great to get out and clean up the garden," says allRisk Vice President Christine Messina. "It's such a beautiful symbol of LSMN/NJ's good work, planting seeds of hope for the children of Camden, so they can be nurtured, grow and flourish."
Camden, N.J. (PRWEB) May 04, 2013
Employees of allRisk Property Damage Experts (allRiskinc.com) and the Brickman Group celebrated Earth Day, April 22, by cleaning up the Lutheran Social Ministries of N.J.'s (LSM/NJ) vegetable garden in Camden.
Volunteers spent Monday morning cleaning the garden, picking up trash, preparing the soil and planting vegetables which benefit the Camden children during the Camden Children's Collaborative summer camp.
"It was great to get out and clean up the garden," says allRisk Vice President Christine Messina. "It's such a beautiful symbol of LSMN/NJ's good work, planting seeds of hope for the children of Camden, so they can be nurtured, grow and flourish."
Located on State Street in historic Camden, the vegetable garden benefits children (ages 5 to13) during LSM/NJ's Camden Children's Collaborative summer camp. The garden serves as a teaching tool for children, who learn the importance of healthy eating while maintaining the vegetable garden.
"We had a great turnout," says Barbara Fullerton, fund director of LSM/NJ. "The children are going to be excited and the garden looks great. This is one of the children's favorite parts of camp."
For more information on LSM/NJ and the Camden Children's Collaborative summer camp, visit http://www.lsmnj.org or contact Barbara Fullerton, at 609-699-4102 or bfullerton(at)lsmnj(dot)org.