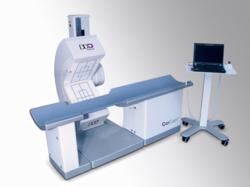 CorCam Is The New Generation Cardiac Camera For The New Generation Of Nuclear Medicine.
Washington, Missouri (PRWEB) May 06, 2013
Universal Medical Resources Inc. will start shipping and installing the new CorCam™ Cardiac Camera manufactured by DDD-Diagnostic A/S. The CorCam™ has been approved by the FDA and given 510k certification.
DDD is the leading manufacturer of gamma cameras for myocardial perfusion imaging. Thousands of gamma camera systems manufactured by DDD-Diagnostic A/S have been installed in hospitals, private practices and imaging centers across the world. Like the other camera systems from DDD-Diagnostic A/S, CorCam™ has been designed as a workhorse camera for nuclear cardiology imaging procedures.
The CorCam™ is a fixed 90 degree, dual detector cardiac camera that provides increased throughput and superior image quality.
Two 3/8" crystals with 14.6" x 8.5" field of view (FOV) detectors and 24 high-resolution low-profile photomultiplier tubes per detector provide high detector performance & excellent resolution.
Features Auto Gain, Energy, Linearity and Uniformity corrections as well as preprogrammed gantry motions.
Compact integrated design for minimal room size requirements and a full complement of nuclear cardiology clinical software.
Highly reliable and well-proven gamma camera.
Truly open gantry allows for greater patient comfort.
Integrates with hospital infrastructure – DICOM Work List.
Available with two patient table options.
1) Short table offers supine imaging with minimal footprint.
2) Long table offers supine and prone imaging.
Optimized for quick and seamless myocardial perfusion imaging.
"Visit Universal Medical Resources' booth #800 at SNMMI Annual Meeting in Vancouver, BC, Canada (June 8th - 11th, 2013) for more information about the CorCam™ and the entire family of NEW cameras designed and manufactured by DDD-Diagnostic A/S."