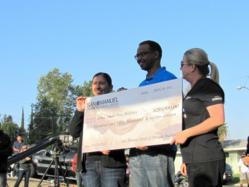 Loma Linda, Calif. (PRWEB) May 02, 2013
Over 1,000 physically challenged and able-bodied athletes observed a moment of silence at the starting line to remember the victims of the Boston Marathon tragedy.
The 11th annual Loma Linda University PossAbilities Triathlon, sponsored by founding partner San Manuel Band of Mission Indians, took place Sunday, April 28, beginning at 7 a.m., and included a 3.1-mile run, 11-mile bike ride, and 150-yard swim.
In addition, a kids' triathlon featured quarter-mile runs and bike rides, as well as a 25-yard swim. A bounce house provided a fun obstacle during the race. Many of the events were held at Loma Linda University Drayson Center.
Triathlon participants wore the Boston Marathon colors on their identification bibs. Physically challenged athletes—many of them amputees—honored the victims of the Boston Marathon tragedy with words of comfort, encouragement, and inspiration following the race. More than 300 volunteers helped to make the triathlon a success.
The fastest adult athletes in various categories were made up of: overall male, Connor Sousa; overall female, Julie Ertel; male pro, Jose Jeuland; female pro, Julie Ertel; and the following male and female challenged athletes: Steve Hoffman, Scott Parson, Fermin Camarena, Nick Roumonada, Umida Lesicko, Tony Troccoli, Katrina Taylor, Jesse Ramos, Andre Barbieri, Owen Daniels and Beth Sanden.
The annual PossAbilities Triathlon raises funds for the PossAbilities Program, a community outreach effort developed by Loma Linda University Medical Center East Campus.
Photo Caption: Mindy Silva (left), who works in the community services department of the San Manuel Band of Mission Indians, presents a check for $250,000 at the beginning of the 11th annual Loma Linda University PossAbilities Triathlon in support of the PossAbilities program to Lyndon Edwards, (center), vice president of Loma Linda University Medical Center East Campus, and Cotie Williams, program coordinator for the PossAbilities and Just For Seniors programs at Loma Linda University Medical Center East Campus.
###
About Loma Linda University Health (LLUH)
Loma Linda University Health includes Loma Linda University's eight professional schools, Loma Linda University Medical Center's six hospitals and more than 900 faculty physicians located in the Inland Empire of Southern California. Established in 1905, LLUH is a global leader in education, research and clinical care. It offers over 100 academic programs and provides quality health care to 40,000 inpatients and 1.5 million outpatients each year. A Seventh-day Adventist organization, LLUH is a faith-based health system with a mission "to continue the teaching and healing ministry of Jesus Christ."
About San Manuel Band of Mission Indians
The San Manuel Band of Serrano Mission Indians is a federally recognized American Indian tribe located near the city of Highland, Calif. The Serrano Indians are the indigenous people of the San Bernardino highlands, passes, valleys and mountains who share a common language and culture. The San Manuel reservation was established in 1891 and recognized as a sovereign nation with the right of self-government. Since time immemorial, the San Manuel tribal community has endured change and hardship. Amidst these challenges the tribe continued to maintain its unique form of governance. Like other governments, it seeks to provide a better quality of life for its citizens by building infrastructure, maintaining civil services and promoting social, economic and cultural development. Today, San Manuel tribal government oversees many governmental units including the departments of fire, public safety, education and environment.