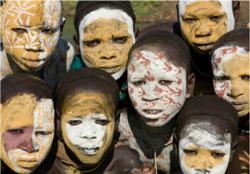 "In the Hamar Mountains we will witness Bull Jumping Ceremonies - rights of passage for young men into adulthood – where women with long braided hair proudly display welts and scars that symbolize their strength, love and devotion to the initiate."
Cape Town, South Africa (PRWEB) May 07, 2013
Passage to Africa has created a safari invitational for only the fittest and bravest to Ethiopia's extreme remote areas with vanishing tribal cultures from the horn of Africa. These intrepid travelers will be immersed in tribal lifestyles and living museums largely unaffected by the western world, interspersed with 'street level culture' cafes, bars, sidewalk musicians, small galleries and bistros. Expect occasional spartan accommodations, contingency plans and unfamiliar situations on this expedition.
"In the Hamar Mountains we will witness Bull Jumping Ceremonies - rights of passage for young men into adulthood – where women with long braided hair proudly display welts and scars that symbolize their strength, love and devotion to the initiate," said Michael Lorentz, principal guide and founder of Passage to Africa safaris. "The Karo take tremendous care and pride in adorning themselves with white and yellow clay body art as they prepare for ancient ceremonies of music and dance. We will also visit Nyangatom ("elephant eaters") homesteads - the most warlike and feared of all Omo tribesmen – and the Mursi, where some of the women insert up to seven-inch diameter clay plates into their lower lips!"
Michael Lorentz and his team have taken great care to research and develop relationships within each village they visit. They actively finance community development projects and avoid confrontation or exploitative encounters by observing important courtesies (spending time being one of the most significant matters of local courtesy.) At certain times the ceremonies are private and may not be photographed, while some individuals do not wish to be photographed at all. At other times the sheer warmth and delight at openly displaying traditional dress and rituals is overwhelming. Michael, as an award winning photographer himself, is well aware of these nuances. Safely experience a spectrum of emotions and bring back amazing memories and images with him as your guide.
The exclusive nature of this safari limits places to a maximum of eight guests. Please contact theteam(at)passagetoafrica(dot)com for more information or booking.
See images from Michael's last trip to Ethiopia below:
Omo Valley, Hamar Tribe
http://www.safarious.com/en/posts/2790-ethiopia-omo-valley-hamar-tribe
Omo Valley, Kara Tribe
http://www.safarious.com/en/posts/2803-ethiopia-omo-valley-kara-tribe
Omo Valley, Dassenech Tribe
http://www.safarious.com/en/posts/2685-ethiopia-omo-valley-dassenech-tribe
Omo Valley, Dassenech Tribe – Dimi Ceremony
http://www.safarious.com/en/posts/2686-ethiopia-dassenech-tribe-dimi-ceremony
Omo Valley, Dassenech Tribe – A day in the life of
http://www.safarious.com/en/posts/2671-ethiopia-dassenech-tribe-omo-valley-a-day-in-the-life-of
Omo Valley, Wildlife & Landscapes
http://www.safarious.com/en/posts/2786-ethiopia-omo-valley-wildlife-amp-landscapes
ABOUT PASSAGE TO AFRICA
Passage to Africa (P2A) is a safari company unlike any other. The logistics of African travel, coupled with the broad range of experiences available, can be daunting - success requires specialized knowledge and organization. Each P2A safari is tailor-made to suit individual tastes and requirements with only the finest hotels, game lodges, safari camps and mobile tented camps. Passage to Africa conducts safaris in Botswana, South Africa, Namibia and East Africa with top guides, service and attention to detail. Whether pampered in luxury or sleeping under the stars, Passage To Africa provides the ideal journey for guests. In addition to customized safaris, the company also conducts privately guided safaris with specialist guides like Jonathan Scott. For more information visit: http://www.passagetoafrica.com
Journalists planning a trip to Africa who would like resources about the wildlife, guides and places to stay and experience the country, should contact Sheila Donnelly Theroux at sheila(at)sheiladonnelly(dot)com or Jeong Ku Hwang at jeong(at)sheiladonnelly(dot)com. We can make inquiries, supply editorial reservations, videos and artwork upon request.
Interviews and Resource: Available with Michael Lorentz, founder of Passage To Africa and partner guides Sandor Carter and Richard Coke.
Send us your questions, needs and contacts and we'll be back within 24 hours with a reply.
# # #