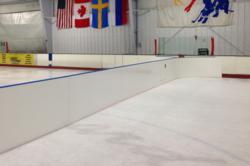 Laurel, MD (PRWEB) May 03, 2013
The Tri-City Eagles are excited to debut their new cross ice hockey dividers at this weekend's Osprey Elite Open. This tournament will feature many Tri-City Eagles players and is being played on Tri-City's home ice, The Gardens Ice House. These new dividers will offer an unparalleled experience for players of all ages; especially the 8U player who play exclusively in a half-ice or cross-ice environment. These ridged dividers with radius corners allow the 8U player to enjoy a half-ice rink, mimicking that of a full ice one. The alternative foam dividers while effective, fall short of creating a true hockey experience.
Under the leadership of Tri-City Eagles Hockey Director, Russell Smith, who is also the American Developement Model (ADM) Vice Comissioner for the Chesapeak Bay Hockey League (CBHL), Tri-City's players have thrived. From USA Hockey's ADM website:
The American Development Model (ADM) provides age-appropriate guidelines and curriculum to hockey associations across America to help more kids play, love and excel in hockey.
Tri-City has embraced these guidelines at all levels, with the 8U level seeing enormous improvements. "The Tri-City Eagles remain committed to player development as our core focus. For 20 years now we have been a player-centric club and look for innovative ways to advance our leadership position in this space. By incorporating ridged cross-ice rink dividers, we are able to create a more complete hockey experience for our 8U players, giving them an advantage," says Russell Smith.
Tri-City selected Becker Arena Products, CROXICE Rink Divider Panels. This well-constructed yet light-weight product is easy and fast to install and convenient to store. "We knew that in order to provide the best possible hockey experience for our 8U players, we had to purchase a set of ridged dividers. There seem to be a lot of great products out there, but we found Becker to have the best combination of product, service and support. We are proud to be the first in MD, DC and VA to feature these and hope to see many others follow," said Michael Pacylowski, Tri-City Eagles Executive Director.
If you would like to see these dividers in action, please feel free to come to The Gardens Ice House in Laurel, MD this weekend. 8U games featuring this will be played, 5/3 @ 4:15pm, 5/4 @ 7:40am, 5/4 @ 1:50pm and 5/5 @ 7:40am.
Founded in 1993, The Tri-City Eagles Hockey Association is a private, nonprofit organization dedicated to helping young individuals develop as athletes, leaders, and members of the community. For 20 years, they have successfully accomplished this through their elite hockey program that stresses excellence, self-sacrifice and places the needs of the player above all else.