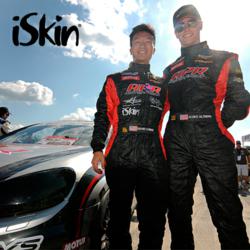 He stands where he is today because of his sheer focus and desire to be the best at what he loves the most
Toronto, Ontario (PRWEB) May 03, 2013
iSkin, a premium brand of fashion and technology lifestyle accessories, today announced its appearance in the racing world. iSkin is sponsoring David Cheng who has just secured PR1/Mathiasen Motorsport's first ever win in the PC division.
David Cheng got PR1/Mathiasen Motorsport's first P1 win at the grueling 12-hour long Sebring, even after an early spinout. After the race, he thanked his teammates, David Ostella and Mike Guasch.
David Cheng drove the iSkin #52 Oreca FLM09 for the Sebring event in the American Le Mans Series organized by Tequila Patron's LMPC class. The Chinese-born Washington based driver, started his racing career for PR1/Mathiasen Motorsports back in 2009 for the Pacific F2000 series, before securing his place in the teams GRAND-AM program.
David Cheng ever since his Karting days, back in 2006, loved racing. His desire to learn more and the progress one sees in him is unmatched by any driver. He stands where he is today because of his sheer focus and desire to be the best at what he loves the most.
Cheng's return to the PR1/Mathiasen Motorsports program at the end of 2012 for the Pacific F2000 series, gave him the opportunity to secure a second place podium finish in the series finale before finalizing his dedicated future plans to race full-time for the team in 2013.
About iSkin Inc.
iSkin Inc. is one of the world's most trusted mobile accessory brands since its first advanced protective solution for the iPod® in 2002. Known for its cool, innovative designs and fashion-forward style, iSkin continues to be the leading mobile accessory brand. iSkin continues to focus on delivering the highest quality, innovative design and fashion-forward style in accessories for Apple®, BlackBerry® and Samsung®.
The iSkin word mark and logo are registered trademarks of iSkin Inc., registered in Canada, the United States and other countries. All Rights Reserved 2006-2013. Apple®, iPad® and iPad® mini are trademarks of Apple Inc., registered in the U.S. and other countries. Other company and product names mentioned herein are registered trademarks of their respective companies.
For further information contact:
Press(at)iSkin(dot)com
http://www.twitter.com/iSkin
http://www.facebook.com/myiSkin