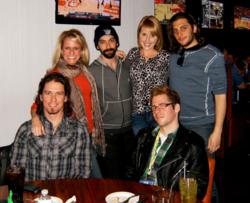 The event is guaranteed to be a memorable evening of music, fun and celebration of American culture.
(PRWEB) May 02, 2013
Best selling patriotic rock band Madison Rising (http://www.madisonrising.com) has teamed up with Indianapolis-based powerhouse Chicks On The Right for a one-night meet and greet performance on July 20th at Birdy's Bar & Grill in Indianapolis. The event is guaranteed to be a memorable evening of music, fun and celebration of American culture.
"We had a great time grabbing drinks with Mock and Daisy last time we were in town," said lead singer Dave Bray, a military veteran and former 8404 FMF Corpsman. "We started talking about how great it would be to do something together at some point, and we were finally able to make it happen."
Madison Rising is best known for their #1 best-selling rock rendition of the Star Spangled Banner. With nearly four million views on YouTube, their performance has brought chills to countless Americans throughout this country and the band is well on its way of completing its challenge (http://www.starspangledbannerchallenge.com) of five million views by July 4th.
Chicks On The Right is an Indianapolis based political news, culture and media group run by dynamos Daisy and Mockarena. The two women developed an interest in politics around the time of the 2008 presidential campaign, and launched the hugely popular website Chicks On The Right (http://www.chicksontheright.com) shortly thereafter. With over 150,000 fans on Facebook, they have been growing steadily ever since. In addition, the duo just launched a weekly radio show on WIBC 93.1 FM. The show airs live on Saturdays from 4-6 PM in the Indianapolis metro region and is also available via podcast.
Tickets for the July 20th show are available at: http://shop.madisonrising.com/collections/frontpage/products/chicks-on-the-right-madison-rising. Park your political correctness at the door, forget the formalities, and prepare to rock - American style!
Madison Rising promotes the principles of liberty, independence, smaller government and personal responsibility. Their mission is not only to make great music, but to also send a message that American culture is alive and well. Madison Rising is currently recording its second album and actively touring around the country. To book the band for live performances such as music festivals, sporting events, corporate events or welcome home parties for those serving overseas, please contact Madison Rising at booking(at)madisonrising(dot)com.