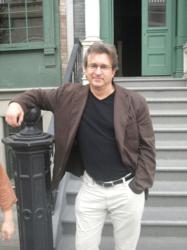 (PRWEB) May 03, 2013
Join Phil Cousineau, author of The Painted Word and Wordcatcher in a parlor game with a literary twist, Word/Play, at Booksmith in San Francisco. Phil Cousineau will join Isaac Fitzgerald, editor of The Rumpus, and Pireeni Sundaralingam on Team A against Esther Inglis-Arkell, contributing editor of io9, author Jenni Holm, and author and Booksmith seller Colin Winnette on Team 1.
The Painted Word
A Treasure Chest of Remarkable Words and Their Origins
Cousineau, linguistic detective and dictionary delver, is back with a priceless treasury of word stories and literary obscura that will enchant any lover of language. The words themselves range from the commonplace, such as biscuit, a twice-baked cake for Roman soldiers, to loanwords like chaparral, courtesy of Basque shepards who came to the American West; from word-reversals such as silly, which evolved from "holy" to "goofy" in a mere thousand years, and to words well worthy of revival, such as carrytale, a wandering storyteller. Cousineau's journey through the history and mystery of words will enlighten as it delights.
Phil Cousineau is an award-winning writer and filmmaker, teacher and editor, independent scholar and travel leader, storyteller and TV host. Currently the host of PBS's "Global Spirit" television series, Cousineau has published 26 nonfiction books and has 15 scriptwriting credits to his name. His books have been translated into nine languages. While moonlighting in a steel factory he studied journalism at the University of Detroit. Before turning to writing books and films full-time, Cousineau's peripatetic career included stints as a sportswriter, playing semi-pro basketball in Europe, harvesting date trees on an Israeli kibbutz, painting 44 Victorian houses in San Francisco, and teaching screenwriting at the American Film Institute. For the past 25 years he has enjoyed his life-long dream of being a full-time freelance writer, filmmaker and sports coach.