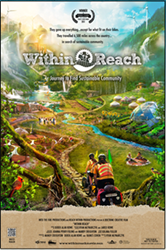 "This is a magnificently subversive film. If you're 100% sure you've got all you want right now... don't watch it!"

~ Bill McKibben, 350.org Founder / Author
San Francisco, CA (PRWEB) May 09, 2013
Millions worldwide are increasingly concerned about the state of both the environment and their societies as they witness the deterioration of water, air, soil, social structures, educational, governance and economic systems.
The new film, WITHIN REACH, informs and inspires viewers around ways in which many are already changing their lives by using permaculture, consensus decision making, un-schooling, natural building, green urban planning and more to heal their relationships with nature, and with one another. In 2008, Mandy Creighton and Ryan Mlynarczyk set out from the San Francisco Bay Area on their bicycles after giving up their houses, jobs and cars in search of a more sustainable life. This docudrama explores their search for a place to call home, culminating in their realization that community is the most important part of sustainable living.
Their journey and film answer the question so many are asking: Is it possible for Americans to live in a sustainable way? The film explores the inner workings of Cohousing neighborhoods designed to maximize positive social interaction, Ecovillages with their own social and economic structures, a 1970's era commune that is still thriving, and a shocking disaster town-turned-GreenTown that makes sustainable community possible for every single American.
After two years of bicycling and three years of post-production, this epic journey is now available for public screenings worldwide. To host a screening in your town and catalyze dialogue so you and your neighbors can create a more sustainable community right where you are, visit http://www.withinreachmovie.com.
Based in Santa Barbara, "Innovative Creative Content: What Makes You Different Connects Us All" is a Content Marketing Firm focusing on successful client branding and global marketing through targeted content and storytelling campaigns. For more information, visit their website at http://www.innovativecreative.co or contact them directly at email (at) innovativecreative (dot) co.