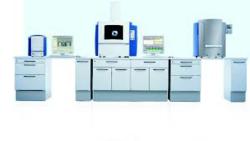 Smile with confidence
(PRWEB UK) 5 May 2013
Reinforcing its commitment to providing its patients with the best dental care possible, East Sussex dental practice Brighton Implant Clinic recently installed an in-house KaVo Everest CAD/CAM system in its lab. The machine is one of the latest and most advanced innovations in dental innovations, and enables dental technicians to craft dental restoration materials that are very close to the exact same dimension and size of a patient's tooth. Furthermore, the KaVo Everest CAD/CAM system's features allow for the crafting of these restorations in multiple material types.
"We're very excited about having our new KaVo Everest machine in our lab. It allows us to craft dental restorations with greater accuracy and precision than ever before," said Dr. Bruno Silva, Principal Dentist at Brighton Implant Clinic. "We're able to service our patients' implant and tooth preservation needs more fully and with greater effectiveness than we've ever been previously."
The KaVo Everest CAD/CAM system uses advanced milling and grinding technology to craft dental restorations that are almost 100% duplicates of patients' teeth. The system first scans the model of a tooth which needs to be crowned and processes the scan. The machine then can use the scanned tooth model to manufacture a full crown, inlay, onlay, veneer, or bridge framework. It is capable of crafting materials even for all of the teeth in a single jaw. The KaVo Everest machine is capable of milling dental restorations in many material types, including high-quality titanium, zirconia, acrylic and ceramic. The machine is already regarded in the industry as a leading production source of dental restorations and dental excellence in general.
Brighton Implant Clinic is the only dental practice in the United Kingdom which uses a KaVo Everest CAD/CAM system in its own laboratory.
"Our system crafts these materials with almost 100% accuracy, and takes the process away from manufacturing dental restorations by hand, which might produce restorations that fluctuate in standard or are almost guaranteed to be not as accurate," said Silva. "For our patients, this machine is yet another testimony to our commitment to offering dental implant and treatment services of the highest professional caliber, service quality, and efficiency in our industry."
Brighton Implant Clinic has three clinic locations located in Hove, Halisham, and Brighton, and is a two-time award winner of the Private Dentistry Awards. The practice's staff has collective experience of decades of implant placement and treatment services, and is internationally reputed for its world-class patient care and top-quality dental implant and treatment services, with patients venturing from as far as Australia and the United States for treatment. Please visit http://www.brightonimplantclinic.co.uk/ to learn more about the practice's services and schedule a free initial consultation.