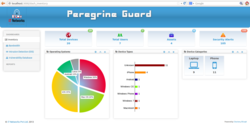 Gartner analyst - Enterprise clients are freaking out about the use of unauthorized mobile devices. Employees are getting really good at getting around whatever the company policy is
Redmond, WA (PRWEB) May 07, 2013
i7 Networks, a mobile security startup being incubated in the Microsoft Accelerator for Windows Azure (India), announced the beta launch of PeregrineGuard, its latest security offering for enterprises. PeregrineGuard monitors BYODs (Bring Your Own Devices) in enterprise LANs and offers a complete security solution through few simple steps executed in seamlessly across wireless networks, without intruding on user privacy.
Announcing the launch, i7 Networks CEO Manjunath M Gowda said: "Security is a major issue in today's enterprises where employees like to bring their own device to work and use apps of their choice to be productive. Unauthorized/ undetected devices accessing the corporate network increase the risk of data leakage and exploitation of vulnerabilities. But there is little that enterprises can do, given the users' privacy concerns and the diversity of devices present on the network. According to a 2011 study by the Aberdeen group, more than one-third of the devices in any network go undetected, and can be the source of major data compromise."
"PeregrineGuard offers the enterprise IT manager an easy and effective way of securing the network by providing several controls that help in discovering BYODs, maintaining inventory of devices in use in a network and applying highly granular access control. As it doesn't require any change of infrastructure, it can be deployed and provisioned in a matter of minutes. Being agentless (we do not put any client on a mobile smart device), it is highly scalable and the issue of intruding into user's privacy doesn't arise," Gowda said.
The product, which is currently being beta tested with a few niche customers, is offered in two versions—PeregrineGuard Standard and PeregrineGuard Lite. The Lite version does mainly BYOD discovery providing various details about the device type, OS, version and much more including dynamic health check of the device, while the Standard version adds the policy enforcement module on top of it.
Congratulating i7 Networks on the launch, Mukund Mohan, CEO-in-residence of the Microsoft Accelerator for Windows Azure, said: "The enterprise mobile security business has huge potential. According to a study by Visiongain, the global mobile security market stood at $1.6bn in 2012 and will touch $5bn by 2014. PeregrineGuard is unique as it offers a non-intrusive, agentless transparent security solution, which is superior and far more effective than one that requires an agent. By adopting this approach, i7 has addressed a very key issue—it has given equal importance to the privacy and convenience of the employee and the security of the enterprise."
About i7 Networks:
i7 Networks is a leading provider of next-generation network access and security solutions for the mobile enterprise. PeregrineGuard, the company's flagship product, provides the best auto discovery, visibility and access control specializing in all devices that connect to the wireless network infrastructure for corporate headquarters, mobile business professionals, remote workers and guests. This unified approach to access networks dramatically improves productivity and lowers capital and operational costs. i7 is based out of Redmond and Bangalore. To learn more, visit i7 at http://www.i7nw.com. For real-time news updates follow i7 on Twitter (@i7networks) and Facebook (https://www.facebook.com/I7Networks). PeregrineGuard will also be showcased at CITE conference happening in San Francisco June 2 to 4.