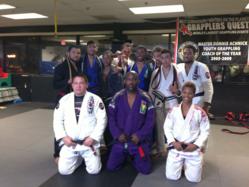 Camp Springs, MD (PRWEB) May 06, 2013
On Friday, April 26th, seven young men took to the mats and made history at Lloyd Irvin's Martial Arts Academy.  It had been over 5 years since a student last achieved the coveted Junior Black Belt, and last week saw 7 reach the milestone. With standing room only, all seven young men were tested on the entire Jr. Black Belt curriculum, and all passed with flying colors.
Miguel Davis, 12, was the youngest to get promoted at this test.  He started at Team Lloyd Irvin at 3 years old and competed in his first tournament at 5. He is also a stellar young scholar who always keeps his GPA on or around 4.0.
Moises Maittre, 14, is a ten-year veteran and was diagnosed with Type 1 Diabetes when he was 10 years old but that has not stopped him.
Ti-Jean Awad, 17, is one of the Top RATED youth grapplers in the world for 4 straight years.  Ti-jean has also become a model citizen and role model to all the youth that he comes in contact with.  
Jamil Hill-Taylor, 17, trains every day working diligently in all areas of the martial arts.  Whether he is teaching students, taking class, doing strength & conditioning or just helping out with the after school program, he is quite busy at Team Lloyd Irvin. Jamil became LIMMAA's 7th Juvenile World Champion last year, and it's 1st Pan Am Juvenile Champion.  
Derrick Holmes, 18, enrolled in Team Lloyd Irvin's very first summer camp program almost 12 years ago.  He was the very first Afterschool Martial Arts Student and was the only Afterschool student for almost 3 months. He is now in his first year of college and he is also training for the world championships.  He teaches the youth at the academy and also works with the after school program.  
Cedric Bryant, 19, was the #1 teenager in the world in 2008 and 2009.  He won the International Juvenile World Championships in 2009 and in 2012 he placed 3rd at the World Championships in a division that had over 150 competitors.  He graduated with a 3.6 GPA from high school.
Malachi Edmond, 18, became TLI's 5th ever Brazilian Jiu-jitsu World Champion in 2011.  An incredible feat when just two years earlier he was still trying to win local and regional tournaments.
Ryan Villogram, 20, is the blueprint of the youth martial art program at Team Lloyd Irvin.  He is a great competitor, teacher, friend, teammate, student. He is currently a junior at VA State University and Ryan still checks up on his "little brothers and sisters" and makes sure they stay on track.