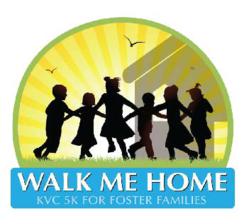 Walk Me Home brings the community together for an energetic event that celebrates and supports our foster families
(PRWEB) May 07, 2013
KVC will be hosting its second annual Walk Me Home 5K on May 11 at 9 a.m. at Theatre in the Park in Shawnee Mission Park to support local foster children and families in the community. Walk Me Home serves to increase awareness of foster care, recruit foster families, and raise funds to support foster care programs and services in the community.
Registration begins at 7:30 a.m. and the 5K kicks off at 9 a.m. Radio Disney will be in attendance post-race to entertain children of all ages with today's top hits, engaging in family fun, games and activities. Lunch will also be provided courtesy of Tyson Foods.
"Walk Me Home brings the community together for an energetic event that celebrates and supports our foster families," Emily Snow, KVC Child Placing Agency Director, said.
The money raised by participants and sponsors will go toward the funding of extra-curricular activities for foster children and help support many other expenses foster families incur in caring for children. Proceeds also support innovative ideas to enhance the Foster Family Training Programs.
Registration is $30 for participants 12 and over; $10 for participants under 12. Click here to register for the Walk Me Home 5K.
About KVC Behavioral HealthCare, Inc.
KVC's work as a private, non-profit organization enriches and enhances the lives of thousands of children and families by providing medical and behavioral healthcare, social services and education. Founded in 1970 as Wyandotte House, KVC works to heal the most traumatic cases of childhood abuse and neglect. Named in 2008 by the Annie E. Casey Foundation as a best-practice organization, KVC is a leader in the use of evidence-based research and innovative tools and technology to advance the welfare of children and families in our communities.