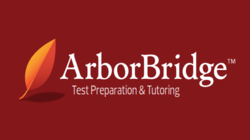 A great score on the SAT Chemistry Subject Test shows a student's range of knowledge and makes them a much more competitive candidate for admissions
Santa Monica, CA (PRWEB) May 03, 2013
ArborBridge hopes that these, along with SAT prep tips currently offered on the ArborBridge blog, will provide students with last minute assistance as they head into Saturday's SAT exam.
Kate Ballard Rosa, ArborBridge's Director of Instruction and long-time tutor, compiled a list of her favorite tips that are guaranteed to help students of any ability level. "A great score on the Chemistry Subject Test shows a student's range of knowledge and makes them a much more competitive candidate for admissions," said Ballard-Rosa.
Tip number one encourages students to gain a depth of content knowledge rather than a breadth of knowledge. "A raw score of 60 out of 85 will still score you in the 700's," said Ballard-Rosa. "You should therefore focus more on the topics that you do know to ensure that you understand them completely and spend less time trying to understand topics that are foreign to you."
The second tip advises students to skip stoichiometry questions. The stoichiometry questions on the SAT Chemistry Subject Test involve a multi-step approach to calculating and solving the equation.
"Stoichiometry questions are the easiest content wise and the SAT knows that, however they take the most amount of time to complete," said Ballard-Rosa. "Since you have to complete 85 questions in one hour, you don't want to waste your time solving a chemical equation." Ballard-Rosa advises that you should skip the stoichiometry questions and come back to it if you have time.
On the SAT Chemistry Subject Test, there is a section that asks students to answer true or false questions. Ballard-Rosa's third tip is to ignore the "because" part of these true/false questions. "Only if you have already determined that both statements are true should you consider the 'because' aspect of the question," said Ballard-Rosa.
The fourth tip for the SAT Chemistry Test is to be careful when answering questions about ions. Many ions and elements have the same number of electrons. "Remember, a Calcium 2 plus ion has the same number of electrons as Argon," warned Ballard-Rosa. "So, if you are looking for an answer choice of 18 you should be comfortable identifying both as correct answer choices."
Ballard-Rosa's last tip is to read questions carefully. Although this may be a rather obvious tip, it is something that often tricks students on the exam. "The SAT knows what mistakes students commonly make, and it will always put those answer choices as incorrect answer choices," said Ballard-Rosa. "Avoid falling for traps by making sure you understand what the question is asking."
Together, these tips should help any student in their final preparation for the SAT Chemistry Subject Test this Saturday. Students can watch the complete tip video here, questions and/or comments are encouraged. For further information on ArborBridge Subject Test preparation, students can contact visit http://www.arborbridge.com or email info(at)arborbridge(dot)com.
About ArborBridge
ArborBridge has helped hundreds of students from 18 different countries maximize their potential score on the SAT and ACT. Their students have seen SAT point increases exceeding 600 points and gained admission to top colleges like Stanford, Cal Tech, NYU, Columbia, Penn, and Georgetown.
ArborBridge tutoring is live, one-on-one, and delivered online by elite American tutors using ArborBridge's proprietary SAT/ACT curriculum, specifically designed for online tutoring. ArborBridge was founded in 2011 by Tim Urban and Andrew Finn, who previously founded Launch Education Group, a premier in-person tutoring firm with offices in Los Angeles and Manhattan.