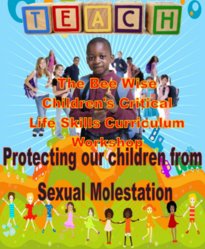 Atlanta Georgia (PRWEB) May 03, 2013
The organization Black Concerned Clergy of Atlanta, Georgia on May 6th to discuss how they might implement the nation's foremost program for the Prevention of Childhood Sexual Molestation, BEE WISE KIDS (http://beewisekids.org/) to reduce the epidemic of sexual abuse against children in the Atlanta area.
Creator of the BEE WISE KIDS curriculum, Elder Raymond King, will be on hand to address the assembly. His life's mission is to help curb the ever-growing epidemic of childhood sexual molestation around the world, by educating parents and institutions as to the true dangers facing their children and empowering the children themselves to recognize dangerous situations and how to react when confronted by them.
According to King:
"Awareness is the first step in bringing about change and that's why it is important for the clergy to lead the way as advocates for children to support today's the growing nationwide effort to bring attention to the national plague of child abuse in all of its many forms.
"Childhood sexual molestation has now reached epidemic proportions around the world, greatly assisted by the modern Internet as pedophiles and child traffickers are better able to stay ahead of authorities, yet despite the heightened danger, most childhood sexual molestation is still predicated not by strangers lurking in the shadows, but, sadly, primarily by trusted relatives, authority figures and family friends.
"Parents and leaders are often not aware of the dangers children face and are not aware of how to educate their children in how to protect themselves, and that is what the Bee Wise Kids curriculum addresses.
"I believe that it is this practical 'educating and enabling' factor of the BEE WISE KIDS education curriculum that is drawing the attention and support of parents and religious leaders from across the nation, to include Raleigh's Pastor Shirley Caesar, 'Queen of Gospel Music', (http://www.shirleycaesar.com/), who are willing to challenge the traditional 'veil of silence' to educate children, parents and institutions in an effort to combat this ever present danger to children."
"It is most inspiring that the Black Concerned Clergy of Atlanta, Georgia are stepping forth to take leadership in this vital nationwide initiative."
About BEE WISE KIDS' Creator, Raymond King:
Raymond S. King Jr. and his wife, Susan King, felt a special calling to develop the BEE WISE KIDS program after recognizing the destruction to people's lives caused by Childhood Sexual Molestation. He is active as a public speaker, traveling regularly across the US to address audiences of both young people and adults. He can be heard on his weekly radio program at http://www.blogtalkradio.com/shmradio
King actually lives a "double life" as a religious educator and an entrepreneur, owner of Products Plus, a manufacturing company for natural-based personal care products to include Ultimate Desire for Men ED formula, Simplee Natural Moisturizing Crème and IPF Pain Relief Lotion, all available from Amazon. Part of the profits from his product sales goes to support his ministry.
Contact:
Raymond King / Bee Wise Kids
Tel 336-215-7978
1315 Headquarters Dr
Greensboro, NC 27405
info(at)beewisekids(dot)org
About Lexis Global Marketing:
Lexis Global Marketing LLC (LGM) works with client companies to develop and implement their marketing programs, strategies and reputation management, both domestically and internationally.
LGM is a supporter of Raymond King's BEE WISE KIDS program and applauds its ability to make a positive difference in so many people's lives through its ground-up approach to reach and educate parents and local leaders, and to empower the children themselves. http://www.LexisGlobalMarketing.com
Contact:
Lexis Global Marketing LLC
David Amos, Director
Tel 336-817-7376
email: CustomerService(at)LexisGlobalMarketing(dot)com
319-B S Main St #154
Kernersville, NC 27284