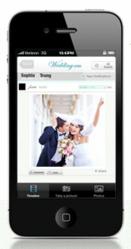 Newport Beach, CA (PRWEB) May 03, 2013
Disposable cameras have been a long-time tradition at weddings to collect wedding photos from their guests, but the online wedding planning leader, Wedding.com, has replaced this outdated practice with the launch of their new Photo Share app.
With the Wedding.com Photo Share app, all of the photos taken by guests are automatically shared across the app and displayed on the Wedding.com website. Guests can interact within the timeline by posting comments and adding a "love" to their favorite photos. In addition, they can add various filters to the photos and share them on Facebook, Twitter, and by email. All of the photos can be viewed on the couple's personal wedding website on Wedding.com.
"With the Wedding.com Photo Share app, couples will instantly be able to view their wedding photos while providing guests with a fun way to enjoy the wedding," says Brett Reynolds, CEO of Wedding.com.
The Photo Share app is completely free and available for all iPhone and Android devices. To use the app for their wedding, couples need to register on Wedding.com and create a wedding code that will be used by guests to access their album within the app. Wedding.com also has a slideshow feature that can even be screened during the wedding to display all of the photos taken by the app.
For more information about the Wedding.com Photo Share app, please visit http://www.wedding.com.
About Wedding.com
Wedding.com is an innovative new website that connects engaged couples planning their wedding with wedding vendors looking to grow their business. Wedding.com contacts vendors for couples, giving them the power to compare and negotiate while ultimately saving time and money. With 15,000 couples and 25,000 vendors currently using the website, 150,000 proposals have already been sent since their inception. Vendors range in services from wedding planners, photographers, florists, and DJs to custom invitations, party favors, and much more. For additional information about the company and its services, please visit http://www.wedding.com.