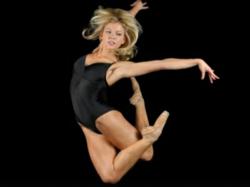 I don't know if I was more excited or nervous that I was actually going to be on So You Think You Can Dance.
Atlanta, GA (PRWEB) May 03, 2013
Caitlin Kinney attended the Actors, Models and Talent (AMTC) SHINE showcases in Orlando, Florida - and received immense interest from top entertainment reps. Caitlin not only won Overall Dancer, but also Overall Commercial Model.
Even though ballet was not her primary dance style growing up, as a sophomore in high school Caitlin transferred to the Baltimore School for the Arts, and fell in love with ballet. She had been tumbling since she was 6 years old, at 12 discovered acrobatics and then a year later took her first jazz class. Presently she performs classical ballet, hip hop, jazz, lyrical, acrobatic stunts and more.
The acrobatic dancer wowed judges with her solo and she survived a grueling audition process making it to Top 20 on So You Think You Can Dance (Season 5).
Caitlin, along with a few select dancers from SYTYCA performed for Italian shoe designer Salvatore Ferragamo during the 9th Annual Celebration of Dreams. Caitlin also graced the stage with Paula Abdul at The White Nights Festival in Russia as part of Abdul's dance team.
With so many styles under her belt and with her great athleticism, it's no wonder that she has broken into the stunt world most recently in Parkour commercials for Semir and La Fuma, the French outdoor equipment company. Caitlin also performed as stunt doubles for three thriller movies: Escapee, Stash House and No One Lives.
Upon graduating from High School, Caitlin was asked to apprentice with North Carolina Dance Theatre and then took time out to film the Disney movie "Step Up" in the role of the featured ballerina. She says, "I started dancing with C&C Dance Company... doing an acrobatics program because I had been a gymnast. I did that for a year, and then I took some jazz and lyrical classes with them."
She has performed in several classic ballets including La Bayadere, Paquita, Rubies, Walpurgisnacht and Violin Concerto and in many roles in a multitude of Nutcracker Ballets. She completed a music video/short film hybrid called "Broken," in which she is featured as a dancer, passionate about her love of dance, a role for which she did not have to study.
During the past three decades, AMTC set the standard for serving an unprecedented array of talent agents, managers and casting directors as the "go-to" source for talented new and aspiring actors, models, singers and dancers. AMTC alumni have been featured in over 600 major motion pictures, television series and Broadway shows, including Footloose, We Bought A Zoo, The Amazing Spiderman, The Secret Life of Dorks, Grey's Anatomy, Switched at Birth, Lab Rats, American Idol, So You Think You Can Dance, Chorus Line, Les Misérables and Hairspray.
AMTC, a 501c3 non-profit ministry dedicated to making good bolder in film, fashion, music and theater, is currently holding auditions in major cities across the country for the next official SHINE talent showcase being held July 2-7, 2013 at the Gaylord Palms, as confirmed by corporate representatives. They are looking for performers ages 4 and up who want to become positive role models in the entertainment industry.