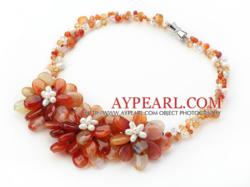 Aypearl.com released its new collection of mother's day jewelry.
(PRWEB) May 03, 2013
Aypearl.com, a leading wholesale jewelry website, has recently released its new collection of mother's day jewelry, and launched a promotion for these new designs.
Mother's day jewelry from Aypearl.com include many hot styles, such as beaded necklace, wrap bangle, cross bracelet, and rhinestone earrings. All Mother's day jewelry has several characteristics: high-quality material, wonderful craftsmanship, rich choices, cheap price, meticulous production and free shipping. On the page of Aypearl.com, customers can find the favorite jewelry styles easily.
Aypearl.com is a well-known brand in the field of handmade jewelry, and they are devoted to providing high quality fashion jewelry with good price to clients worldwide. Aypearl's jewelry is very popular among the ladies for their fashionable designs, fast shipping, gorgeous looks and delicate craftsmanship. The mother's day jewelry is certainly no exception.
Zhang Yong, CEO of the Aypearl, has announced that Mother's day jewelry is available at greatly discounted prices. "We are offering a huge selection of fashion jewelry with high quality materials. They are specially designed by our creative and artistic fashion experts. Our gorgeous jewelry will help you to leave an elegant impression."
The company is offering more than 10000 different styles of jewelry, including pearl jewelry, gemstone jewelry, crystal jewelry, coral jewelry, shell jewelry and so on.
About Aypearl.com
As the famous and leading china jewelry supplier, Aypearl values each customer's satisfaction and requirement. High quality, reasonable price, good customer service, fast shipping are good reasons for choosing Aypearl. There are more than 10000 styles of jewelry on Aypearl. Welcome to wholesale china jewelry from Aypearl.com .
More information can be accessed at: http://www.aypearl.com/new-products/