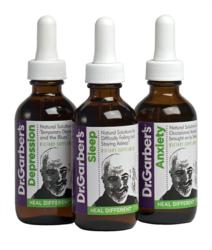 There is no deeper bond than that between mother and child.
Santa Monica, CA (PRWEB) May 06, 2013
Dr. Stuart H. Garber, D.C., Ph.D. and founder of Dr. Garber's Natural Solutions, has some advice for those who may be experiencing anxiety or depression over the approaching Mother's Day. "All holidays have an element of stress attached to them. We place such high expectations on others and ourselves, and in the case of Mother's Day there's usually so much history, that it can lead some to feeling anxious and others depressed. But there are a number of things we can do to cope more effectively with stress, naturally."
When, in honor of her own mother, Anna Jarvis founded Mother's Day some one hundred years ago, she likely envisioned a day to joyfully and simply honor mothers and grandmothers for all that they do in raising children.
"Unfortunately," notes Dr. Garber, "the holiday has ballooned into a huge consumer event. In fact, even the woman who founded Mother's Day was quite irritated by the commercialization of her holiday back then. However," continues Dr. Garber, "shopping for the right gift is just one stressor. Holiday travel, family issues such as divorce, financial pressures, aging and health issues are just a few of the stressors that if not addressed properly could ruin the day."
What is it about Mother's Day that affects us so profoundly?
According to Wendy Fader, Ph.D., P.A., "Mother's Day, in one form or another, is universal, as it is universal that everyone has a Mother. It is a day fraught with high emotionality for many because it is a time to consider their most significant and primal bond. Is the Mother representation one of love, nurturance and protection, or is it one of detachment, withholding and neglect? Is there respect and gratitude for the important maternal figure, or resentment, hostility and disappointment? Therefore, Mother's Day stirs up an onslaught of conscious and unconscious considerations."
Dr. Garber agrees, "There is no deeper bond than that between mother and child. This is why the stress response can be so much more intense than usual." When you're feeling anxious or gloomy, whether due to the pressure of Mother's Day expectations, or for any other reason, Dr. Garber recommends the following lifestyle changes: Eat a healthy, well-balanced diet. Exercise. You can fight stress better when you are fit. Get an adequate amount of sleep to recover from stressful events. Expose yourself to a little sunlight every day. Practice relaxation techniques including yoga and deep breathing. In order to stay well it's essential to learn how to minimize and cope with stress.
When extra support is needed, safe and effective remedies such as Dr. Garber's Natural Solutions for Sleep, Anxiety and Depression are all helpful. Equal parts of Anxiety and Depression throughout the day, with Sleep added to the mix before bed, makes for the ideal mood support.
Dr. Garber's Natural Solutions are a unique line of biotherapy formulas that safely and effectively address many of the most common conditions while producing no harmful side effects. The product line includes remedies that help conditions such as anxiety, environmental and seasonal issues, bone strength, constipation, depression, female hormonal balance, joint issues, lung, skin and sleep disorders.
Dr. Garber's Natural Solutions are sold in Whole Foods Markets in California, Arizona and Nevada, Lassen's Markets, California, Metropolitan Markets, Washington, other retail markets here and abroad, through doctor's offices nationwide, on Amazon and through Dr. Garber's website store.
Dr. Stuart H. Garber, D.C., PhD has been practicing holistic medicine since 1981. He has lectured to medical, dental, chiropractic and acupuncture groups in the United States, Europe, Asia and the Caribbean. In 1997 Dr. Garber became the first person in the United States to receive a Ph.D. degree in homeopathy. He is the developer of Dr. Garber's Natural Solutions line of condition specific biotherapy formulas that are sold in Whole Foods Stores in California, other retail outlets, through doctors offices, Amazon and the Dr. Garber's Natural Solutions website store. He practices in Santa Monica, CA where he also conducts research in dietary supplements and homeopathic medicine.