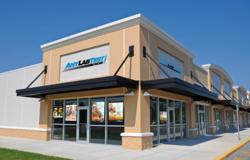 We saw a real need for an affordable, convenient option for consumers to take control of their health without the need of an appointment or insurance.
Greensboro, NC (PRWEB) May 03, 2013
In an effort to provide professional, convenient and affordable lab testing; ANY LAB TEST NOW®, one of the nation's fastest-growing retail franchising opportunities, has opened a new and improved location in the Greensboro community. The new facility, now located in the Brassfield Shopping Center, 3707D Battleground Avenue, will celebrate its Re-Grand Opening celebration on 5/14/2013 from 12-5 PM.
"We are proud to give this community an alternative choice in lab testing," said ANY LAB TEST NOW® COO Clarissa Bradstock. "We saw a real need for an affordable, convenient option for consumers to take control of their health without the need of an appointment or insurance." In fact, the Doctor's Order is provided. The company provides transparent and inexpensive prices for consumers that have no insurance or high deductible insurance, or are simply curious about their current state of wellbeing. They also provide comprehensive solutions for Employers, Lawyers, Fitness Centers and Schools.
ANY LAB TEST NOW® revolutionizes the lab testing experience by offering thousands of standard lab tests in a professional and convenient retail setting. ANY LAB TEST NOW® provides confidential lab tests with results typically in 24-48 hours and without the need of a doctor's order, appointment or insurance. And all tests can be taken anonymously. The new facility performs thousands of medical lab tests including men's and women's wellness, drug, paternity, STD/HIV and many more. ANY LAB TEST NOW® also provides pre-employment drug testing, background searches including multi-level criminal and I-9 verification, as well as corporate wellness discount programs for local employers.
"As our company continues to expand throughout the nation, our entire organization is excited to be able to provide this affordable, and convenient lab testing service to this community in a new, clean facility," says Joe Neely, Chief Executive Officer of ANY LAB TEST NOW®. "With the cost of healthcare rising for both consumers and employers, this alternative option is becoming a necessity."
As part of the Greensboro Grand Opening celebration on May 14 from 12 p.m. - 5 p.m., customers can receive free B-12 shots (starting at 12 p.m., while supplies last), and try their luck with the prize wheel giveaway which includes free lab tests and lots of other goodies. The ribbon cutting ceremony with the Greensboro Chamber of Commerce will take place at 3 p.m.. In addition, there will be a presentation at 2 p.m. by Rush Fitness focused on Nutrition, and an Employer Solutions presentation at 4 p.m. for human resources professionals entitled "Myths and Misconceptions of Drug and Alcohol Testing." A bouncy castle will also be outside for children. For more information or for an appointment, please visit http://www.anylabtestnow.com/Greensboro or stop by the new location.