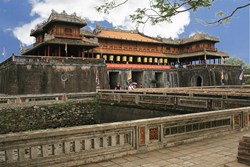 I have visited many interesting places in Asia. To me, Hue is really worth visiting", says Joe, an American tourist.
(PRWEB) May 03, 2013
This summer will see a large number of tourists to Vietnam. Therefore, Vietsmile Travel – the leading travel agent in the country has launched a great deal on tour price, discounting up to 35%. This is applied for international tourists who book tours in Hanoi, Ha Long, Hue, Danang, Ho Chi Minh, and Phu Quoc. Among them, Hue – the old capital of Vietnam is expected to be the hottest destination.
Hue is famous for its magnificent scenery, historical vestiges, preserved cultural heritages, unique cuisine, and honest local residents. In fact, Hue was the capital of the Southern Kingdom under Nguyen Lords' Dynasty in Vietnam and officially became the nation's capital under Tay Son Dynasty, King Quang Trung. Situated on the bank of Huong River (Perfume River), the citadel palace is a huge complex with the total area of 520 ha. The place consists of Hue Capital Citadel, Royal Citadel and Forbidden Citadel, and 3 circles of ramparts. Despite the long history, the precious historical and classical value here is still preserved. Leaving the citadel and walking on streets, tourists will see the streets being filled with grit and grace.
Every day, there are about 12,000 tourists visiting Hue. Many tourists would like to call in monuments and royal tombs in this imperial city. Many people love to walk or ride a boat along Perfume River to enjoy the fresh air and picturesque landscape. The remaining royal architecture, imperial cuisine, and music styles define Hue City as the most valuable national treasure. The image of Perfume River and Ngu Mountain have long been the symbol of this ancient city. What makes Hue a special place is the combination between the old and modern beauty. In the middle of the city, people still enjoy peaceful atmosphere and gentle lifestyle. Apart from historical sites, tourists can easily find an elegant restaurant, luxurious hotel, busy nightclub, and many other interesting leisure centers. It is said that visiting Hue is visiting Vietnam in the past, present, and future. Besides, there are many interesting highlights that tourists should not skip once visiting Hue; for example, National Bach Ma Park, Thuan An Beach, Trang Tien Bridge, Dong Ba market, etc.
Recognized as the World's Heritage Site by the UNESCO, Hue is more and more attractive to both domestic and foreign tourists. "I have visited many interesting places in Asia. To me, Hue is really worth visiting," says Joe, an American tourist.
With the reliable service and reasonable price, Vietsmile Travel secure to bring tourists interesting tours in Hue. For instance, tourists can have a joyful day to join Hue city tour by car just with $25 - $35. At present, Vietsmile offers a variety of cheap tours in Hue on the website. Tourists can book now to have a great holiday in Hue this summer.