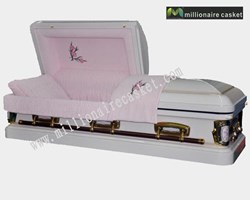 (PRWEB) May 03, 2013
Recently, MillionaireCasket.com, a leading China casket manufacturer, has announced a promotion for its high quality product line of metal caskets. This promotion is a limited time offer and will remain valid till the end of May 2013.
MillionaireCasket.com has been manufacturing different types of metal casket for many years. They supply high quality products; their caskets all have intricate designs and secure locking systems. This casket company is well known in the market for providing quality caskets and for this reason the company has become one of the leading casket suppliers in the market.
The promotion on metal caskets is to show appreciation to the customers who continuously provide a positive feedback. The company understands how important it is to supply good caskets for it is something deeply connected with customer sentiments. The company understands the feelings of its clients and knows well that caskets are the one last thing one can provide to the departed ones.
The caskets are available in 16, 18, 19 and 20 measurements steel or bronze, and hence are resistant to rust or corrosion or any other form of damage. The interior of these caskets is also damage free; it is treated with chemicals to safeguard it from rusting or corroding. The caskets can be ordered in any desired measurement and weight. Simple ones are also available as well as being designed ones.
In addition to this, the company is also involved in casket wholesale business. Moreover, along with caskets, it also offers several other products related to funerals. Hence, it is a one stop funeral shop.
MillionaireCasket.com is a China based company supplying several different types of caskets and all sorts of funeral material. It is a one stop shop for buying high quality reliable funeral products.