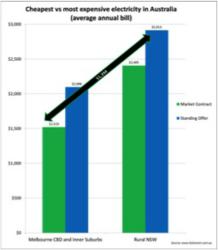 Residents of regional and rural NSW could be paying up to 92 per cent, or $1,394 a year more for their electricity.
New South Wales, Australia (PRWEB UK) 13 May 2013
New data from GoSwitch.com.au, Australia's leading energy and gas comparison website, has found that residents of regional and rural NSW could be paying up to 92 per cent, or $1,394 a year more for their electricity than residents in Melbourne and other parts of the country.
Ben Freund, CEO of GoSwitch.com.au said: "Country NSW has the most expensive electricity in Australia. Residents on default plans are paying nearly 20 per cent more than they need to, and nearly twice as much as households in Melbourne that are signed up to discounted offers."
"I find it really hard to comprehend that residents in regional NSW are prepared to pay hundreds of dollars over the odds each year just because they favour one company's logo over another's on their quarterly statement."
GoSwitch.com.au's national analysis also found:

In some instances, households in regional and rural NSW can be paying up to $1,185 more each year for electricity than residents in some parts of Sydney
Residents in Melbourne's CBD have access to Australia's cheapest electricity
Regional and rural residents in NSW can save up to 17.40%, equating to approximately $505 annually for an average household, by switching to the cheapest deal.
"Electricity is the same no matter which retailer's logo is on the bill. Our advice to consumers is to regularly make sure consumers are on the best possible plan, and paying the least amount possible. Doing nothing in the face of rising costs is becoming more and more costly, especially for those who are already struggling financially.
"Making some smart choices with usage can also help reduce the bill considerably," Freund said.
GoSwitch.com.au is a free and impartial price comparison service which lists 99 per cent of plans available in every area, and allows consumers to easily switch provider.
Five quick tips for reducing energy bills:
1 – Pay the least amount possible: Pay the least amount per kilowatt hour by comparing energy plans and switching to a cheaper deal through http://www.goswitch.com.au
2 – Understand how the company is billing. The electricity bill will show the user if they are on a peak only metre which means they charge a flat rate for electricity at all times of the day, or an off peak metre where rates are highest during peak times (generally 2pm – 8pm on weekdays).
3 – Reduce usage: Identify the power guzzlers in the home and reduce usage. A power meter can cost as little as $6 and help find the most inefficient appliances. Also make sure to turn off and unplug appliances that aren't being using. Up to 20% of electricity bills can result from 'energy leaks' or appliances on standby mode.
4 – Throw out or upgrade: Get rid of unnecessary appliances and/or replace old appliances with ones that are more energy efficient. It's easy to recoup these costs over time.
5 – See the retailer for what they are: electricity retailers are just the billing agency for wholesale electricity providers. All electricity is identical, and the only thing there is to lose in changing retailers is higher prices.
For more information, or to arrange an interview with GoSwitch CEO Ben Freund please contact:
Paul Wickham, Boxing Clever Pty Ltd
P: 041-239-8489
E: paul(at)boxingclever(dot)net(dot)au
About GoSwitch.com.au
http://www.GoSwitch.com.au is Australia's most popular price comparison website for electricity and gas. It allows households and businesses to conduct a customised search for the best energy provider for their needs, and to change plans free of charge. Unlike a broker, and some other so-called comparison services, GoSwitch.com.au is also impartial because every plan available in every area is listed in order of price, regardless of whether a retailer allows consumers to switch to them through GoSwitch.com.au or not. The volume of consumers who visit GoSwitch.com.au each month has also provided the bulk buying power for the company to have negotiated exclusive rates that are the cheapest available.