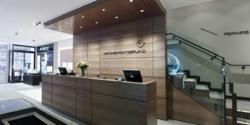 (PRWEB) May 03, 2013
Luxury watch retailer Watches of Switzerland is pleased to announce the opening of two new Glasgow venues, with a fantastic showroom unveiled in the heart of the city's shopping district as well as a new specialist pre-owned timepiece boutique.
The impressive two-storey showroom opened in the recently redeveloped Buchanan Quarter of the famous Scottish city last week, adding to the fresh shine that the £70m development has brought to one of Scotland's busiest shopping districts. The Quarter, which includes 49 apartments, has also created more than 200 retail jobs as part of wider plans to build shopping, leisure and residential facilities in the city's centre.
Inside the store, visitors will find a breathtaking array of the latest timepieces on display from famous Swiss brands such as Rolex, Omega, TAG Heuer and Panerai with the latter being exclusive to the Glasgow area. As with other Watches of Switzerland showrooms, the location will also give visitors access to a range of all the essential maintenance and repair services and expertise that a luxury Swiss watch owner might ever need. The in-house team will also be able to assist with engravings and valuations should they be required.
The new showroom replaces the former Argyll Arcade store, which has since been transformed into the first Watches of Switzerland Pre-Owned boutique, with a large range of vintage and pre-owned timepieces for those who might prefer a more classic look. Whether it's a 1940s Patek Philippe piece or a classic 1960s Rolex, those traditionalists looking for a timeless model should find all they desire here. The venue will house one of the largest pre-owned collections in the UK, with a fascinating range of timepieces from the last 100 years that is sure to be regularly changing over the coming months.
The new Watches of Switzerland Glasgow showroom and the Watches of Switzerland Pre-Owned boutique are now open, with directions and contact details for both found on the Watches of Switzerland website. The pre-owned collection will also soon be found online, but in meantime anyone can head to the site to browse the fantastic array of luxury watches already on display – simply head to http://www.watches-of-switzerland.co.uk to find the perfect timepiece.