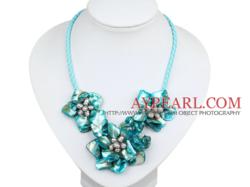 Aypearl.com Starts Its May Sale with Jewelry Promotion
(PRWEB) May 05, 2013
Aypearl.com, a leading wholesale jewelry website, announces its jewelry promotion for May, and these jewelry is offered at discounted price now.
Aypearl.com is professional in the field of designing and selling high-quality fashion jewelry with newest styles. Aypearl's jewelry is extremely popular among ladies for the gorgeous looks, good material, trendy designs, and delicate craftsmanship.
According to Zhang Yong, CEO of Aypearl , some of their fashion jewelry is available now with discounts about 15-30% off. For example, one of the shell flower necklace (item ID: X158), Elegant style sky blue color pearl shell flower necklace, was previously priced at $7.14, and it is sold at a new discounted price of $5.95.
Cheap fashion jewelry has been extremely popular in the present economic environment, and people would not spend much money like before. Aypearl knows this very well and always launches promotions for its high-quality fashion jewelry at affordable prices.
The company is offering more than 10000 different styles of jewelry, including pearl jewelry, gemstone jewelry, crystal jewelry, coral jewelry, shell jewelry and so on.
About Aypearl.com
As the famous and leading china jewelry supplier, Aypearl values each customer's satisfaction and requirement. High quality, reasonable price, good customer service, fast shipping are good reasons for choosing Aypearl. There are more than 10000 styles of jewelry on Aypearl. Welcome to wholesale china jewelry from Aypearl.com .
More jewelry promotion information can be accessed at: http://www.aypearl.com/sale-promotion/