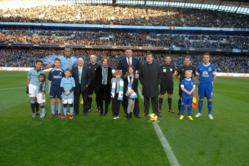 We've been able to marry our need for growth with our commitment to green, sustainable business. - Matthew Archer, M.D.
ICP Networks Ltd
(PRWEB UK) 3 May 2013
ICP Networks Ltd will celebrate their upcoming move to a new home in a special ceremony at EPL high-flyers Manchester City FC next week.
The Cheshire networking suppliers are official Match Ball sponsors for the home game between 'City and West Bromwich Albion at Eastlands on May 7th
With the finishing touches currently being applied to custom-built offices at the 16,000sq ft warehouse, the firm are all set to make the move to the new Poynton premises on June 1st.
The new headquarters features South Manchester's largest commercial solar panel installation.
The 50kW system, installed by The Green Electrician group and comprised of over 65 individual panels, will provide for all of ICP Networks electrical requirements and feed back its surplus power into the National Grid.
European warehousing specialists Jungheinrich were also commissioned to design and construct the custom-built warehousing installation.
Since the establishment of the company in the Cheshire town of Wilmslow a decade ago, ICP Networks has developed into one of Europe's foremost providers of new and refurbished networking and server-room equipment from all principal manufacturers, such as Cisco, Checkpoint (Nokia), Sun, Avaya, BlueCoat and HP.
And Managing Director Matthew Archer believes that his company's relocation, which will see ICP Networks effectively quadruple their warehousing capacity, marks the start of an exciting new chapter for the company.
"Since our foundation in 2002, we've been growing steadily year on year," said Mr Archer.
"But, after last year saw us turn in our most successful performance yet, it became clear to me that we'd outgrown our current home."
"The 'blank canvas' offered by our new Cheshire site really appealed, as we've been able to marry our need for growth with our commitment to green, sustainable business," added Matt.
However, the move to the new premises only forms part of ICP Networks strategy for sustainable quality and best practice.
"Having recently attained our ISO9001:2008, we're currently working towards our next accreditation, ISO14001:2004, and hope to complete this later in the year," added Mr Archer.
For further information, please contact:
Rob Steadman
c/o ICP Networks Limited
Unit 3 Deanway Business Park
Wilmslow Road
Handforth
Wilmslow
Cheshire
SK9 3HW
rob.steadman(at)icpnetworks(dot)co(dot)uk
http://www.icpnetworks.co.uk
AIM: ICPUKRob2010
DD: +44 (0) 1625 538 677
Mobile: +44 (0) 7545 702 158
Tel: +44 (0) 1625 538 660
Fax: +44 (0) 1625 538 661