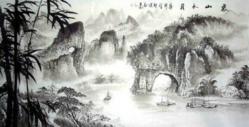 (PRWEB) May 03, 2013
Recently, Artisoo.com, the online art store, has launched a promotion with big discounts, up to 70% off, on its updated Chinese painting collection. Many motivating and inspiring paintings have just been added to this collection.
The huge range of these paintings is grouped by style or subject. It has Chinese landscape paintings, animal paintings, and more. The famous Chinese horse painting is a masterpiece of art.
Along with this, the website also has oil paintings. Their styles cover historical periods such as Early Renaissance and Baroque, right down to modern Abstract paintings. Subjects include Landscape paintings, Still Life and many more. Artisoo.com also reproduces works from many art masters like Leonardo Da Vince, Michelangelo, El Greco, Pablo Picasso and others.
Vincent Zhou, the Artisoo.com CEO, said, "Each painting from us is a piece of artwork, and meticulously painted by the talented artists."
Customers have a choice of various types of mounting. The paintings could be mounted on traditional frames of various types. Alternatively, they could be mounted as a scroll, which is economical for shipping. Paintings can also be purchased without mounting. The customer service is exceptionally good and they provide contact through phone, email or Skype. They can ship worldwide, thus making them one of the best online art galleries in the world.
Artisoo.com was set up in 2009 by Vincent and Zachary and specializes in paintings, particularly Chinese paintings. They provide excellent customer service and the website is a goldmine of information to educate art enthusiasts.