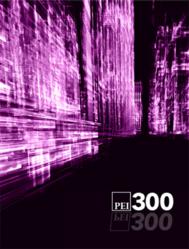 (PRWEB) May 08, 2013
The PEI 300 2013: the 10 largest (see appendix for 2012's largest 10)
Rank : Fund Manager
1 - TPG
2 - Carlyle Group
3 - Blackstone Group
4 - Kohlberg Kravis Roberts
5 - Warburg Pincus
6 - Goldman Sachs Principal Investment Area
7 - Advent International Boston
8 - Apollo Global Management
10 - CVC Capital Partners
Source: Private Equity International, 2013
Click here to view the top 50 private equity firms
TPG: the world's largest
TPG, the Texas-based firm headed by David Bonderman, retains its title as the world's largest private equity sponsor, having raised just under $36 billion of capital in the last five years. This marks the third year that TPG, based in Fort Worth, has occupied the PEI 300 pole position.
While TPG's five year fundraising total is well below its ranking last year when its 2007 funds boosted its number to almost $50 billion, the global firm nonetheless had an extremely busy year. TPG is currently in market to raise $12 billion for its next mega buyout fund, is marketing a mezzanine fund with a $1.5 billion target, an Asia fund that is targeting $4 billion and a China-focused growth with a RMB 4 billion target.
Premier name firms ascend the PEI 300
A number of flagship names climbed this year's ranking. The Carlyle Group which, backed by its strong in-housing fundraising team, rose three places to secure second position; Warburg Pincus rose 10 places to rank at number five; and Advent International moved by nine positions to land seventh.
PEI 50 sees fundraising decline
The 50 largest firms raised a total of $586 billion since the start of 2008 which is the lowest cumulative total recorded since the financial crisis took hold and is 17% down from 2012's total of $704 billion. It's important to note that this is the first year that the PEI 300 totals do not include many of the pre-crisis funds that held closes in 2007, when 18 mega funds closed on more than $182 billion in equity raised.
Aggregate capital raised over previous five year period by PEI 50:
2009 - $813 billion
2010 - $771 billion
2011 - $733 billion
2012 - $704 billion
2013 - $586 billion
Source: Private Equity International, 2013 
"This year's PEI 300 ranking confirms that the global fundraising environment continues to be challenging as the five-year rolling tally of capital raised by the world's largest private equity managers has continued to decline. The difference to the boom years is marked and even some notable name firms that haven't braved the fundraising market since 2007 have dropped off the PEI 300 entirely," said Philip Borel, PEI's Editorial Director. "Interestingly, the profile of the very top ranked fund managers continues to change, with the majority comprised of publicly traded managers that invest across diverse asset classes. This suggests that investors are allocating their private equity capital to financial sponsors with multiple strategies, rather than single-strategy leveraged buyout specialists."
Emerging markets climbers
Four Asia-focused fund managers made it into the top 5 of emerging markets managers in the PEI 300: China Investment Corporation, CDH Investments, Hony Capital and RRJ Capital, which landed just above Abu Dhabi-based International Petroleum Investment Company to secure the 48th spot. RRJ Capital was the fastest climber this year and made it into the top 50 for the first time with $5.8 billion raised over the last five years.
Rank: Fund Manager
32 - China Investment Corp.
35 - CDH Investments
41 - Hony Capital
47 - International Petroleum Investment Corp.
48 - RRJ Capital
Source: Private Equity International, 2013 
Capital centres
This year's PEI 300 demonstrates that managers headquartered in North America and Asia are attracting the most capital commitments, followed by Europe. The importance of Asia cannot be denied as market share held by North America and U.K.-based firms continues to shrink.
"The PEI 300 offers an inside look at the trends taking shape among the world's foremost private equity fund managers, providing a complete roadmap to where investors are allocating capital and where the industry is heading," said Dan Gunner, Director of Research and Analytics at PEI and the leader of the research team who created the PEI 300. "This year's ranking is no different and indicates that even mega funds are not the dominant players as they once were. Changes in the rankings, such as the increasing importance of Asia-based fund managers, illustrate the expansion of the industry's importance outside of traditional money-centre cities as the long-term effects of the financial crisis continue to be felt."
About the PEI 300
The PEI 300, now in its seventh year, is the only apples-to-apples ranking of private equity firms by capital raised. Published annually and drawing on proprietary research undertaken by PEI's Research and Analytics team, the list ranks firms globally by the amount of direct-investment private equity capital each firm has raised throughout the previous five year period.
Methodology
The 2013 PEI 300 rankings are based on the amount of private equity direct investment capital a firm has raised between 1 January 2008 and 1 April 2013. For the purposes of the PEI 300, the definition of private equity is capital raised for a dedicated programme of investing directly into businesses. This includes equity capital for diversified private equity, buyouts, growth equity, venture capital, turnaround or control-oriented distressed investment capital and mezzanine debt.
"Capital raised" means capital definitively committed to a private equity direct investment programme. In the case of a fundraising, it means the fund has had a final or official interim close after 1 January 2008. The PEI 300 also counts capital raised through other means, such as co-investment vehicles, deal-by-deal co-investment capital, publicly traded vehicles, recycled capital, and earmarked annual contributions from a sponsoring entity.
About PEI:
Private Equity International is published by PEI, which provides news, data, training and conferences for the global alternative asset classes of private equity, real estate and infrastructure. With offices in London, New York and Hong Kong, PEI is the leading source of news, data and analysis for professionals engaged with these industries worldwide. The company has five print/digital publications, manages a suite of databases, runs more than two dozen conferences globally, publishes a library of 20 books and directories and has a fast-growing training business all dedicated to alternative assets. The company, founded in 2001, is owned by management..
Appendix
PEI 300 2012: The largest 10
Rank : Fund Manager
1 - TPG
2 - The Blackstone Group
3 - Kohlberg Kravis Roberts
4 - Goldman Sachs Principal Investment Area
5 - The Carlyle Group
6 - CVC Capital Partners
7 - Apax Partners
8 - Apollo Global Management
9 - Bain Capital
10 - Oaktree Capital Management
Source: Private Equity International, 2012