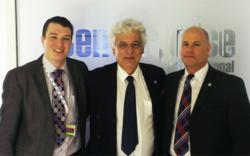 "We see OnBuy becoming part of the way that people buy online, setting new standards in reach and choice" - Garry Stevens, Group CEO
Basingstoke, Hampshire (PRWEB UK) 6 May 2013
British company OnCommerce Ltd is launching a brand new online marketplace called OnBuy in the summer, which will debut onto a scene dominated by two of the world's most dominant companies, Amazon and eBay.
Twenty-eight year old MD Cas Paton, who also founded leading web development agency OnTop Media - which has worked on systems for organisations such as the MOD and NATO – has just secured his company major investment from one of Britain's leading IT providers, Centerprise International. CI was founded in 1983 by one of the country's leading businessmen, Rafi Razzak and the firm has since grown to become a major UK reseller for Microsoft, Panasonic, Toshiba and Dell.
"The value and experience, product reach and support services that Centerprise International offer are going to be fundamental to the success of OnBuy," said Paton. "They've been trading for 30 years, working closely with some of the largest IT companies in the world!"
OnCommerce Ltd is aiming to make OnBuy synonymous with high quality and good prices, growing it to become the UK's number one online marketplace.
Starting a rival online marketplace is a hugely ambitious project, but it certainly doesn't daunt young Paton, who started OnTop Media at the age of 21 with just £80 in his back pocket:
"I'm happy to take risks, if I believe I can do it!"
"I'm so delighted with how far my businesses have come. In these though times, it just goes to show that if you set your mind to something, you really can achieve it."
Garry Stevens, Group CEO of Centerprise International said of the project: "We see OnBuy becoming part of the way that people buy online, setting new standards in reach and choice.
"The first thing that attracted us to work with Cas and the team on the project was the focus and enthusiasm they have for it. For us, we are always looking for great people to back and we are happy that we can form a long and mutually productive future alliance together."
Developed by a team of leading web experts who have worked on some of the most complex and high security systems in the UK, OnBuy has been perfected into a distinctly simple and easy to use marketplace, due to its unique navigation structure. Shoppers are able to quickly find what they are looking for; while an exclusive discounting structure will enable consumers to find the best prices for a range of different products; from all major brands, to independent retailers; even those selling non-barcoded or custom products - unlike some of its major competitors.
"OnBuy is committed to offering the lowest cost-per-sale, compared to rival marketplaces, allowing our sellers to sell at lower prices, and therefore our customers to benefit.
"We are really looking forward to watching OnBuy compete to become one of the major online marketplaces" MD Paton added.
OnBuy will launch in July, and are already claiming to have a large number of sellers.
Website: http://www.onbuy.co.uk