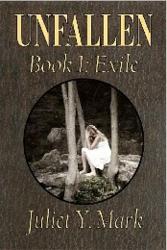 Dubbed a "promising" start to an "ambitious fantasy series" by Kirkus Reviews.
Buffalo, NY (PRWEB) May 07, 2013
"Unfallen" by Juliet Y. Mark (ISBN 1478285540) is a suspenseful new fantasy adventure that explores Adam and Eve's descendants in a unique world where only Eve has been driven from the Garden of Eden.
Taking place in a world divided between the mortals in Evlantis and the immortals remaining in the Garden of Eden, "Unfallen" presents a stark contrast to traditional interpretations of Adam and Eve and offers readers a glimpse into a bleak alternate history.
When Ava, the youngest daughter of Adam and his second wife, Aurora, is tricked into leaving Eden, she learns that although she didn't intentionally sin, she still cannot return home. Allowed to remain immortal for as long as she chooses good over evil, Ava is told of Eve's mortal descendants and sent to live among them. In this shocking city where women rule and men are slaves, Ava struggles to carefully navigate an alien and sometimes repulsive world while maintaining the delicate balance that ensures her immortality.
With an urge to take readers on an unexpected journey that allows them to escape real life, author Mark says she created "Unfallen" as a one-of-a-kind fantasy series that reimagines a timeless story that is familiar to readers everywhere.
Dubbed a "promising" start to an "ambitious fantasy series" by Kirkus Reviews, "Unfallen" was written as a variation on the myth of the Wandering Jew. Featuring a character that is doomed to wander the Earth forever, living out thousands of lifetimes while the people she knows and loves die, the novel presents a unique spin on the classic myth while offering commentary on the concept of immortality.
"Unfallen" is available for sale online at Amazon.com and other channels.
About the Author:
Juliet Y. Mark's life experiences, love of storytelling and her family were all pivotal to her starting her career as an author.