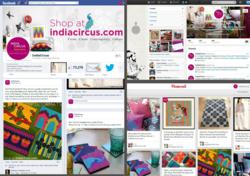 "Social media, is the future of all things great & has a direct connect with innumerable people. We are ecstatic that our efforts have surpassed the expectations set, and things are simply getting bigger and better with every passing day" Hadi Curtay
(PRWEB) May 06, 2013
India Circus, the contemporary-chic home décor, lifestyle, and personal accessories brand by renowned designer Krsna Mehta, is definitely proud of its association with the various channels of social media which is continuing to grow from strength to greater strength. India Circus has successfully capitalised on social media, which has resulted in the brand's stupendous growth, in terms of popularity as well as business. The creativity & designs of this contemporary lifestyle brand are visually appealing and this has worked wonders on these platforms and has helped the brand create great engagement value for its fans and followers. In addition to this the involvement and design suggestions by the renowned designer Krsna Mehta, Design Director India Circus has definitely been a great value add for its audience.
India Circus' active involvement on the popular channels of social media, such as Twitter, Facebook, Pinterest, Google Plus, and the brand's blog, has attracted a great volume of target audience to the brand who has begun their unique India Circus shopping experience. "In fact, the conversions of visitors into potential shoppers and buyers have surpassed the brand's expectations, and are increasing on a regular basis", says Devaki Khimji, Managing Director, Indiacircus.
Elaborating on the good news, Mr. Hadi Curtay, Technology Director, India Circus, said, "As we all know, social media is the future of all things great. It has a direct connect with innumerable people, and thus investing time, money, and effort, into the various platforms of social media is what even India Circus likes to concentrate on. We are ecstatic that our efforts have surpassed the target we had set, and things are simply getting bigger and better with every passing day."
India Circus is bullish that its relation with the many platforms of social media will become even stronger, and that it will successfully deliver its inimitable shopping experience to many more users in the near future.