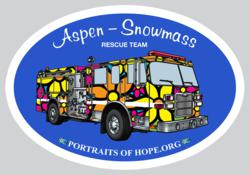 Los Angeles, CA (PRWEB) May 03, 2013
Portraits of Hope http://www.portraitsofhope.org/ is conducting a session today for children from the Braille Institute in the program's next big motivational art and civic initiative that will culminate with the vibrant visual makeovers of the fire, rescue, and emergency vehicles in world-renowned Aspen and Snowmass, Colorado. For the first time anywhere, iconic and fully operational front-line fire and rescue vehicles will be visually transformed into public art. The 5-month Aspen exhibition of the emergency trucks and vehicles begins in June.
Founded by brothers Ed Massey http://www.edmassey.com/ and Bernie Massey, Portraits of Hope is engaging children and adults in hospitals, schools, and social service agencies in Los Angeles, Denver, and Colorado's Roaring Fork Valley. Nearly 2,000 participants are involved including traditional populations served by Portraits of Hope, many dealing with medical, physical, and socio-economic challenges.
This is the third Portraits of Hope project in which children and adults from the Braille Institute are participating. Portraits of Hope is providing special textured art panels for children who are visually impaired or blind, who will create colorful and uniquely textured art panels in a floral motif for the emergency vehicles and exhibition.
Joining the Braille Institute children in the project session will be students from Westside Neighborhood School who participated in their own Portraits of Hope session earlier this week and who helped texture the panel surfaces for the session today so that persons visually impaired could participate. These textured art panels will be applied to the emergency vehicles as part of the overall collection of panels being created for the project. The names of all the children participating in the project will be identified on the panels. The project includes up to 32 front-line vehicles from the four participating fire and rescue agencies: Snowmass Wildcat Fire Department, Aspen Volunteer Fire Department, Aspen Ambulance, Mountain Rescue Aspen.
Portraits of Hope sessions were recently conducted over several weeks involving Roaring Fork Valley communities in Aspen, Carbondale, Basalt, and Glenwood Springs. Upcoming Portraits of Hope sessions for hospitals, schools, and social service agencies in Denver, Los Angeles, and the Roaring Fork Valley include Shriners Children's Hospital, Children's Hospital Colorado, Denver Health Medical Center, and Special Olympics, among others.
Founded by the Massey brothers, Portraits of Hope, a non-profit program, develops large-scale projects that merge the production and exhibition of iconic public art with creative therapy for hospitalized children and persons with disabilities, civic leadership education for students in schools, and community engagement opportunities for people of all ages. To date, Portraits of Hope has served and involved tens of thousands of children and adults in large-scale civic collaborations that have visually transformed everything from airplanes, buildings, and the NYC taxi fleet to blimps, tugboats, race cars, and all the LA beach lifeguard towers by working with organizations from NASA http://www.nasa.gov/ to NASCAR .
Children and adults served by the Braille institute were also involved in Portraits of Hope's Summer of Color lifeguard tower public art project involving all 156 towers on the 31-mile coastline operated by the Los Angeles County Department of Beaches and Harbors and LA County Lifeguards. Portraits of Hope also included the Braille Institute in its Santa Monica Ice project which visually transformed and beautified the outdoor ice-skating facility and its environs in 2011.
As in other Portraits of Hope initiatives, the Fire and Rescue project is a privately funded and supported initiative. Key partners, supporters, and pillars of the project who share the project's themes and goals include: Imagic Print Services ; MACtac - a Bemis Company; Laird Plastics and Recycling Center; Willits Town Center; Hotel Jerome – an Auberge Resort; The Viceroy, Snowmass; Goldrich Family Foundation; Dayglo Paints; David Allman; Davidow Charitable Fund; Quali-Tech Manufacturing; Andy Boyle; Wooster Brush Company.
To meet the individual needs of children and adults with disabilities, Portraits of Hope has developed specialized painting brushes and techniques including telescope paint brushes for those in wheel chairs or connected to IVs, the shoe brush TM for individuals unable to manipulate a brush with their hands, and fruit-flavored mouth brushes for kids and adults with limited movement in their limbs.
In schools, students engage in Portraits of Hope civic sessions in which they assess, discuss, and communicate their thoughts on social issues affecting their communities and the world and focus on the importance of teamwork in bettering communities. The larger art collaboration – painting the panels for the fire and rescue trucks and vehicles – is a group effort to demonstrate tangibly the power of teamwork and civic engagement. A collection of written statements by youth participants, aged 8 – 18, commenting on important community issues, national policy, and individual goals is being compiled for exhibition in connection with the Fire and Rescue project.
For further information and to get involved, partner with, and support Portraits of Hope contact poh(at)portraitsofhope(dot)org.
Contact Info: Stephen or Sara; Phone: 310-474-5141; Email: media(at)portraitsofhope(dot)org
or go to http://www.facebook.com/pages/Portraits-of-Hope/162666860449752.
###