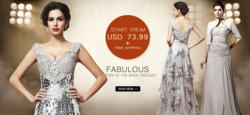 (PRWEB) May 03, 2013
Since TideBuy.com launched its new collection of mother of the bride dresses, the market response is "very good" (according to Edmond Liu, a senior manager of TideBuy.com). Now, the company is announcing that all these dresses are available with discounts.
The dresses from TideBuy.com are well-known for rich choices, fine tailoring, meticulous production and effective transport services. The mother of the bride dresses are no exception. On another side, the elite designers from the company have employed 2013's new trends in these dresses. No matter attractive sleeveless dresses, or elegant V-neck dresses, clients can find their dream dresses at TideBuy.com easily.
"We have 700 different kinds of mother of the bride dresses in stock, and that will be enough for any picky mother of the bride. Now, all these dresses are offered with great discounts," says, Edmond Liu. "We have confidence that purchasing wedding dresses from us must be your wise decision."
Along with beach wedding dresses, TideBuy is offering great discount rates on other women's dresses, like traditional wedding ceremony dresses, lovely cocktail dresses, classy bridesmaid dresses, and much more. In addition, custom wedding dresses and plus size wedding dresses are also available here.
About TideBuy.com
TideBuy.com is offering extensive and stylish collections of wedding dresses and other special-occasion dresses at acceptable low prices, and its products include a wide range of cheap dresses, wedding dresses, evening dresses, prom dresses, and more. They have vowed to provide their own wedding dresses without sacrificing the top-quality materials and fast delivery.