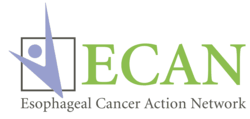 (PRWEB) May 03, 2013
Maybe someone should look at you, kid. That's the message of the new movie trailer premiering at the First Annual Humphrey Bogart Film Festival this weekend in Key Largo, Florida. In the trailer shown before every film that is screened at the festival, Stephen Bogart, the only son of Humphrey Bogart and Lauren Bacall, asks viewers to consider whether they may be at risk for developing Esophageal Cancer.
For Bogart, the question is personal. His legendary father died of Esophageal Cancer in 1957 when Stephen was just eight years old. The Estate of Humphrey Bogart has partnered with ECAN (Esophageal Cancer Action Network) to raise awareness about the link between reflux disease and Esophageal Cancer and encourage screening for early detection of the disease.
"Our goal is to make people aware of this silent killer," said Stephen Bogart. "We want to spare other families the tragedy that so often follows a diagnosis of Esophageal Cancer."
It's a timely message; Esophageal Cancer is one of the fastest growing cancer diagnoses - up more than 400% in the past 20 years. It's also one of the deadliest forms of cancer – one of the top ten cancer killers of American men. But when it's discovered early, or in the precancerous stage known as Barrett's Esophagus, new treatments can often lead to cure. That's why the message of the Bogart movie trailer is so important. These movie screenings encourage medical screenings that could save lives. Bogart invites viewers to download ECAN's free Guide for Patients designed to help individuals determine their risk. It's available at http://www.ecan.org.
"We are honored to have our production unveiled at this important event," said ECAN President and CEO Mindy Mintz Mordecai. "The commitment and support we have received from Stephen Bogart and the Humphrey Bogart Estate to help us take our life-saving message to fans of this iconic film legend has been inspiring and we hope it's the start of a national campaign for awareness."
The First Annual Humphrey Bogart Festival features screenings of legendary Bogart performances, a display of memorabilia, rides on the fully-restored African Queen, and guest appearances by Jack Huston ('Boardwalk Empire'), film historian Leonard Maltin, and Miami-based film director Billy Corben. You can find more details and information at http://www.bogartfilmfestival.com.
About ECAN (Esophageal Cancer Action Network) http://www.ecan.org: ECAN's mission is to save lives by increasing awareness about the link between Heartburn and Cancer, promoting early detection and supporting medical innovation to prevent, detect and treat Esophageal Cancer. This national non-profit organization is led by a board of directors of top physicians, business leaders, and families touched by Esophageal Cancer. ECAN was founded in 2009 by Mindy Mintz Mordecai who lost her husband and father of her young children to this deadly cancer. Through ECAN's efforts, April has been formally designated as Esophageal Cancer Month. Doctors from across the nation contributed to ECAN's Guide for Patients.