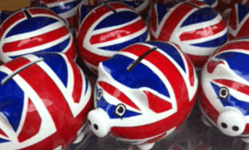 UK children are demonstrating a responsible attitude to saving at an early age
London (PRWEB UK) 5 May 2013
The economic crisis appears to be impacting the youth of Britain, as much as any other generation, if the results of a new study by investment company Scottish Widows are to be believed.
The study (reported in the Telegraph online) which polled 2,000 children and adults across Britain, found that children as young as 10 are already starting to save money for university fees, buying a home and other "key milestones" events. In fact 98% of 10 year olds claimed to have already started to save – A figure which contrasts radically with the adults polled, most of whom (85%) had not started saving before the age of 15.
Admittedly, the key motivator for children's saving was still for "...toys, games and gadgets..." (48% citing this reason), but nonetheless the reports still indicates the "economic downturn has had an impact on children's savings habits". Indeed many were already considering longer term savings with 70% already understanding what a pension is, and 10% planning to retire before the age of 50.
Jane Humphries, Oxford University professor of economic history commented on the findings:
"...[P]erhaps growing up in an age of austerity has made [children] them realise that saving for a rainy day is sensible."
Mark Scott, Managing Director of leading UK comparison website, compareandsave.com added:
"It's great to see that UK children are demonstrating such a responsible attitude to saving at an early age.
Obviously the circumstances motivating the change are less than ideal, but it looks like the 'children of austerity' will grow up with a better understanding of personal finance than some prior generations, so hopefully they won't make the same mistakes"
____________________
compareandsave.com is one of the UK's leading personal finance comparison websites. Based in Colchester, Essex, compareandsave.com has been helping UK consumers get a better deal on credit cards, savings accounts, personal loans and more for over five years