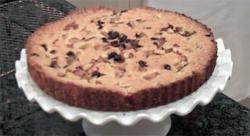 My family/friends could not believe I made this because they know baking intimidates me, but this mix is very easy to use and results were impressive. It came out perfect-looked professional & tasted delicious. A package is in the house at all times
Boston, MA (PRWEB) May 07, 2013
Husbands and children are always in need of a last minute, quick-fix Mother's Day surprise. Linda Amir of T'ART Creations explains how her T'ART mixes make life easy for those looking for something simple to make this a special Mother's Day.
This is truly a seven minute wonder treat– simply go to your refrigerator for two eggs and butter (which can be easily substituted for applesauce or Greek yogurt), whip them together, spread in a baking dish, quiche pan, t'art pan, spring form pan – any shape and yes, even the good old pie plate works beautifully. Spread the batter and simply "throw" either freshly sliced or frozen fruit - leave the skin on apples, peaches, plums, etc. Be creative and even add a sprinkling of coconut or chocolate chips. Bake for 45 minutes until golden brown. What could be easier!
A gentleman blew his family/friends away when he presented them with a T'ART because they knew baking intimidated him, but said this mix is very easy to use and the results were impressive. "It came out perfect…looked professional and tasted delicious."
"It's true - this mix is to pretty much fail proof for anyone and husbands foreign to the oven, and kids of all ages will enjoy making it and surprising mom and themselves" says Linda Amir, Amour Creations founder and T'ART creator."
To order T'ART mixes in time for Mother's Day or to read more about Linda and the success behind T'ART, foodies can visit http://www.amourcreations.net.
About Amour Creations:
Created with a unique idea and a sweet tooth in mind, Linda Amir, founder and creator of the T'ART maker, set out to create the perfect baking mix that's quick, easy and delicious. An alternative to pies and cakes, T'ART is a baking mix that pairs "art" with "tart" and has been providing no-fuss sweet and savory tarts to customers for a little over two years. For locations on where to buy, visit http://amourcreations.net/find-us-near-you/ or purchase the mix online at http://amourcreations.net.