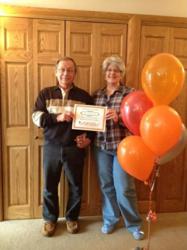 New Hope, MN (PRWEB) May 06, 2013
Total Comfort Heating & Air Conditioning was happy to announce the winners of their Air Conditioning System Giveaway. Deb and William Remig were given a brand new Rheem Prestige Series High Efficiency Two Stage Air Conditioning System, complete with full installation. The couple was so excited they also decided to upgrade their furnace during the installation.
The Rheem Prestige Series is a top-rated centralized AC unit. The Remigs will be enjoying reduced energy bills, advanced comfort with Rheem's Comfort Control System, and guaranteed reliability with a 10-year limited parts and conditional total unit replacement warranty. The skilled technicians from Total Comfort will be installing the system, as well as their upgraded furnace system.
Total Comfort was proud to give this couple a new air conditioning system. They are a company who strives to be the most professional, friendly and knowledgeable Minneapolis-based HVAC company. Their goal is to help customers choose the most efficient and affordable system based on the customer's needs. Total Comfort stands by its commitment to quality above and beyond everything else. For more information about their HVAC services, please visit http://www.tcomfort.com/.
About the Company:
Total Comfort is a highly-trained and professional heating, cooling, and indoor air quality provider and contractor serving residential homes in Minneapolis and St. Paul, Minnesota. In 1956, three brothers got the entrepreneurial spirit and A-ABC Refrigerator Repair Company was born in Minnesota. As this heating and cooling company grew, additional services were added until A-ABC was the complete HVAC and appliance service solution. That spirit continues today, guiding the second generation, as they continue to innovate and research the best alternatives for their clients - in and near the Minnesota area.
With their focus on superior solutions and world-class service, A-ABC re-branded the company as Total Comfort to better communicate their passion: optimal solutions, every time. They renamed themselves Total Comfort not only because they go to great lengths to have their equipment create a comfortable environment in customers' homes - but also because interactions with them should be comfortable as well. With 50 years of history under their belt, customers can count on Total Comfort to be there - solving HVAC conundrums with fresh ideas and proven implementation. Other heating and cooling contractors can do it cheaper but nobody can do it better than Total Comfort.