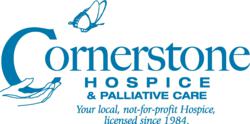 Identifying these top-performing hospices is our way of recognizing organizations that have demonstrated high quality of care to both patients and caregivers.
Tavares, Fla. (PRWEB) May 06, 2013
Cornerstone Hospice and Palliative Care's (http://www.CornerstoneHospice.org) mission to provide excellent care has been recognized.
Cornerstone has been named a 2013 Hospice Honors recipient, a prestigious award recognizing hospice agencies providing the best patient care as rated by the patient's caregiver.
Cornerstone serves seven Central Florida counties with at-home, inpatient and in-facility care. Three of the organization's hospice houses were specifically named as providing exceptional care to patients and their families:

Frank and Helen Discipio Hospice House in Tavares
Mike Conley Hospice House in Clermont
The Villages Hospice House in The Villages
Established by Deyta, this esteemed annual honor recognizes the top 100 agencies that continuously provide the highest level of satisfaction through their care as measured from the caregiver's point of view. Deyta used the Family Evaluation of Hospice Care (FEHC) survey results from over 1,200 partnering hospice agencies contained in its national, FEHC database with an evaluation period of January through December 2012. Deyta used the five key drivers of caregiver satisfaction as the basis of the Hospice Honors calculations.
"Hospice Honors defines a new standard of excellence in the patient/family experience for hospice agencies," says Liz Silva, Deyta's Director of Hospice, "Identifying these top-performing hospices is our way of recognizing organizations that have demonstrated high quality of care to both patients and caregivers. That positive family experience is a key driver of ongoing patient-focused care and overall agency success."
"The medical team, support staff and volunteers who make up Cornerstone are incredibly dedicated to ensuring quality hospice care is available to anyone who needs it," said Chuck Lee, CEO of Cornerstone Hospice. "It is an honor to be recognized for their hard work but I suspect the greatest reward is the daily interaction with patients and their families and the knowledge that we are providing compassionate care with dignity to those who are at end-of-life."
Cornerstone has been caring for people facing life-limiting illnesses and their families since 1984. In 2011, the agency served 4,281patients, plus thousands more friends and loved ones, and Cornerstone currently serves more than 800 patients each day.
About Cornerstone Hospice
Cornerstone Hospice and Palliative Care, Inc., a not-for-profit, community organization since 1984, provides comfort and care to Central Florida families experiencing life-limiting illnesses. Over 5,000 people in Lake, Sumter, Orange, Osceola, Polk, Hardee and Highlands counties benefit from Cornerstone programs each year. Enhanced patient and family care is made possible through the generous support of individuals and groups. For more information, to donate, or to volunteer, call 888-728-6234 or visit http://www.cornerstonehospice.org.
About Deyta, LLC
Partnering with thousands of hospice, home health, human services, and other healthcare organizations, Deyta simplifies data driven management, enabling our clients to overcome the avalanche of information that clouds good judgment. With Deyta, healthcare leaders make proactive decisions that strengthen financial performance, improve operational efficiency, assure CMS compliance, and provide better patient care.