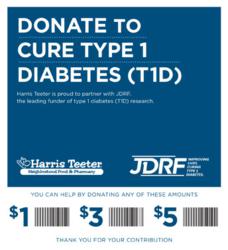 Charlotte, N.C. (PRWEB) May 06, 2013
Harris Teeter is donating today over $340,000 to JDRF, the world's largest charitable funder of research toward curing, treating, and preventing type 1 diabetes (T1D) and its complications. The donation was made possible thanks to generous contributions from Harris Teeter customers during the company's point of purchase campaign to benefit JDRF.
Harris Teeter hosted the point of purchase donation card campaign in March, during which time Harris Teeter customers were invited to make $1, $3 or $5 donations to JDRF at checkout.
"Harris Teeter customers continue to show their generosity to our nonprofit partners," said Catherine Becker, communication manager for Harris Teeter, "and we appreciate their overwhelming support of JDRF."
In addition to the donation from the point of purchase donation card campaign, Harris Teeter is also sponsoring the upcoming Harris Teeter Celebrity Golf Classic benefitting the Greater Western Carolinas Chapter of JDRF on May 8, 2013 in Charlotte. For more than 10 years, Harris Teeter has been a proud sponsor of the golf classic and in that time, the Greater Western Carolinas Chapter of JDRF has generated more than $900,000 for T1D research thanks to proceeds from the golf tournament.
Please click here to watch a thank you video from Harris Teeter.
About T1D
In T1D, a person's pancreas stops producing insulin, a hormone that enables people to get energy from food. People with T1D need to test their blood sugar and give themselves insulin (with injections or an insulin pump) multiple times every day, and carefully balance insulin doses with eating and daily activities throughout the day and night. However, insulin is not a cure for diabetes, and even with that intensive care, a significant portion of the day is still spent with either high or low blood sugar, placing people with T1D at risk for devastating complications such as heart attack, stroke, blindness, and amputation.
About JDRF
JDRF is the leading global organization funding type 1 diabetes (T1D) research. JDRF's goal is to progressively remove the impact of T1D from people's lives until we achieve a world without T1D. JDRF collaborates with a wide spectrum of partners and is the only organization with the scientific resources, regulatory influence, and a working plan to better treat, prevent, and eventually cure T1D.
As the largest charitable supporter of T1D research, JDRF is currently sponsoring $530 million in scientific research in 17 countries. In 2012 alone, JDRF provided more than $110 million to T1D research. More than 80 percent of JDRF's expenditures directly support research and research-related education. In 2012 Forbes magazine named JDRF one of its five All-Star charities, citing the organization's efficiency and effectiveness.
For more information, please visit jdrf.org.
About Harris Teeter
Harris Teeter Inc., with headquarters in Matthews, N.C., is a wholly-owned subsidiary of Harris Teeter Supermarkets, Inc. (NYSE: HTSI). Harris Teeter is the 24th largest supermarket in the U.S. with 2012 sales of $4.54 billion. The regional grocery chain employs approximately 25,000 associates and operates stores in North Carolina, South Carolina, Virginia, Georgia, Tennessee, Maryland, Delaware, Florida and the District of Columbia.